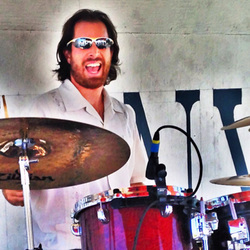 Written by Max Minskoff
It is now the 20th year since I picked up a pair of drumsticks in the Fall of 1994 and read a piece of sheet music. The first song I ever played was a little tune for wind band called Spinning Game in elementary school band class. It has been an exciting and rewarding adventure since that day.
After playing in school bands for eight years, I got my first drum set, a Sonor Force 3001, on my 16th birthday from my father. Right away I started playing in a punk band and the high school jazz band, and became the drum captain in marching band my junior year. With a successful audition, I entered into the Cal State Long Beach percussion program in fall 2004. In the summer of 2005 I started playing in a professional steel drum band called Steel Parade.
Only 18 years old at the time, I met the bandleader, Phil Carillo, working for a casino party rental company setting up blackjack, roulette, and craps tables. Our client that night hired Steel Parade and I got to listen to the whole set while I worked. Having been about six months into my percussion program, I was beginning to play tenor steel pan in the steel drum orchestra. I asked Phil if he knew about Cal State Long Beach's music program, and it turned out he was an alumni and we both had studied under the same director, Dr. Michael Carney. I was invited into the band to play congas that summer and worked my way up to being the drum set player in both the CSULB engine room and Steel Parade over the next ten years. Steel Parade performs consistently 100-200 times a year. In addition to Steel Parade, I started my own group, Nu Pan Groove, and keep busy with gigging, recording, teaching, and producing music in the LA area, having performed thousands of paid gigs.
I want to share my experience of being a drummer in a working band. These are tips that I have learned that will make your life as a working musician much easier. Some of it will be technical formalities, some musical, and some business. It's important as a drummer to be musical, technical, and professional, because then you can just have fun and be confident in your mission; to entertain and keep time. You also want to have your rig completely dialed in so that transporting, setting up, unloading, and packing up your kit become so routine that you can do it in your sleep. I wish somebody had taught me these things from the very beginning because it would've saved me a lot of headaches and unnecessary energy spent. In the industry we call this "paying your dues".  The main key to success is to just play a lot out in public and find seasoned musicians to work with. Experience the best way to hone your craft.
1. Wear ear plugs!
This is one of those things I cannot emphasize enough, being somebody who has tinnitus and partial hearing damage from playing over the years. I have tried every single type of earplug from the super expensive custom fit ones with filters, all the way down to the cheap foam ear plugs. My advice is to get a large pack of 30db foam earplugs; I look for the softest skin colored ones I can buy in bulk. Keep them with you in your car, gig bag or wherever you will be conveniently able to pick them up before each gig or practice session. Every pair of custom ear plugs I paid hundreds of dollars for, I have lost. I also don't believe they provide as much hearing protection as they claim. Drummers need the most protection. The foam ones have the best hearing protection, you just have to surrender some of the sonic clarity and learn how to play with plugs by trusting your own musicianship. This can be an issue in especially quiet playing situations, so I'll take them out if I can't hear the melody or I'm overpowering the band. I don't wear my plugs 100% of the time, but I wish I had when I lay down at night and my ears are still ringing. Ringing equates to permanent damage being done to the cochlea. The bottom line is to protect your hearing at all costs!
2. Pack An Efficient Rig
This next tip is one that I'm still dialing in to this day, and you will constantly be working on it throughout your entire career and that is perfecting your "rig". As a working musician that plays for local events, I am responsible for carting my own equipment and setting it up. Playing music is fun, but hauling around a bunch of heavy bags, setting up drums, and packing it into your car hundreds of times a year can really take a toll on your body. Good body mechanics while lifting drums and hardware bags is essential to preserving your back, neck and shoulders. But the main point of this is to make sure all of your equipment fits on a cart that is so secure that you could push it down a flight of stairs and nothing will fall off.
It will also need to fit in the narrowest of doorways and go over bumps, curbs, and up ramps with ease. The way I achieve this is by stacking all of my drums on the cart, in cases, largest to smallest (bass drum first), and placing the hardware bag vertically in front of the drums. I use tension tie downs to keep everything secure and strapped tightly to the cart. My drums, throne, pedal, rug, and hardware all fit on the cart and I can push it through any standard doorway and even take it down curbs without anything falling off or getting caught.
I keep my cymbals and stick bag in a back pack case so I can wear it while I push the cart. This doesn't only apply to drummers but anyone in the band with equipment. This tip may seem obvious or lame to some people, but so many drummers I see out there don't even have cases for their drums and carry them in one by one. Dialing in your rig is one of the most rewarding parts of playing gigs because it takes all the stress and unknowns out of your set up and teardown times so you can focus on enjoying yourself. Sometimes you have to park far away from where you're playing so your rig has to be light, mobile, and compact. For this reason I also play a smaller kit. I feel that anything bigger than a 20-inch bass drum is "too big for my rig," because I have trouble going through a standard doorway.
Maintain a build order to your setup that you follow every time. For me it's the carpet, kick drum, pedal, hardware, snare, toms, and cymbals in that order. When I tear down it's the reverse. Also, this may be the most important part of the rig tip: never leave your cases lying around during your performance! Who wants to look at a band and see all of their ugly cases lying around the stage? Be a pro and hide them out of sight. This is another one I have seen many "pros" not able to comprehend when I look at their sloppy stage appearance with cases, drinks, tangled cords, music stands, mismatched clothes, etc. polluting the visual experience. You don't go to see a philharmonic orchestra with all their cases and drinks on stage, so why have cases lying around on your gig? Please, hide your cases, carts and bags out of sight during the gig!
3. Be Punctual
Here's a big one, and it's obvious. Don't be late! As the saying goes, "If you're early, you're on time, if you're on time you're late, and if you're late you're fired!" We in the band, have a formula for being on time and it's one of the band's trade secrets. Leave at least three hours before the downbeat, no matter where the gig is, and be set up ready to play thirty minutes before the gig starts. This obviously applies only to local gigs that don't require long road trips or flight travel.
Why three hours? It allows a good cushion of time in case something goes wrong. For example a few years back we were on our way to a gig and got a flat tire on the freeway. Because we left three hours early we had enough time to get a new tire and make it to the gig. Most of the time you'll be early, but this gives you the freedom to take your time, grab some food, and be set up and ready to play at least a half hour before downbeat.
I can't tell you how many times I've hired musicians for gigs and they're all stressed out and in a rush to make it to the gig. They show up 15 minutes before downbeat, having to set up frantically, all sweaty and disheveled and wonder why they don't get a call back. Being early and relaxed tells the client and or band leader you are a pro. It contributes to the Zen experience of a successful gig. It's all about staying relaxed, confident, and prepared, and being early is the key ingredient.
4. Act Like a Pro
Okay so far we have our rig dialed in, our setup is clean and we are on time, ready to play a half hour early with our earplugs in hand and a solid groove. So what's left? This tip has to do with your personality and professionalism on the gig. Musicians that I hire for gigs aren't necessarily the most virtuosic players in the world. They are "cool" to work with. What exactly does being "cool" mean? It means not being a social idiot and able to mingle with strangers. It means being calm, collected, having a sense of humor, and showing up sober. It means knowing when the client offers you something, you can respond without offending them or seeming awkward.
One time I hired a bass player for a high profile wedding gig on the beach at a private resort. He showed up wearing black jeans instead of slacks, converse all-stars instead of dress shoes, and brought a Trader Joe's paper bag full of hippy feed for lunch. Now mind you every one is dressed up and the client arranged to set aside plates of amazing catered food for the band at fifty bucks a head. This dude also didn't have the ability to chit chat or strike up conversation with people at the gig, and just seemed out of place in his shabby clothes eating a sack lunch while we ate catered food in our classy attire.
He was an amazing player with all kinds of jazz chops and musical sensitivity. Does it matter at this point? No. He didn't get a call back because the experience wasn't "cool." I've had players complain to me about wearing island shirts on the gig because it "makes them look stupid" or they "can't get chicks dressed like this!"  Let me be crystal clear: you are getting paid hundreds of dollars to play live music for a few hours. People hire bands because they want cool people at their event instead of a playlist on their iPod. It is up to us to reverse the stereotype of the schlocky anti-social musicians with their cases and beer bottles on stage, too good to hang with the guests when invited, or eat the food that is offered to them. The "being cool" factor will take you far in the music world, even if you aren't the greatest player.
My first call list for players has more to do with "being cool" than having unbelievable chops. Being early, dressing exactly as expected, being polite and able to handle the client's offers or requests, being funny and positive, and learning how to fit into any setting without seeming narcissistic, will get you more gigs than spending eight hours a day in a practice room. It's a tall order, but once people love having you on their gigs, the phone will start ringing. It's all about whom you know and maintaining those friendships.
5. Get Paid For Your Work
And for the final tip, know your worth and don't play for free! We as musicians are hopefully trying to make a career out of playing music, and must uphold a personal standard for how we value our skills and our time. There is no minimum wage or standard rate for musicians unless you join the union. We all start out playing for free or paying to play because we are so eager to have a stage to let loose on. The sooner we can abolish that behavior and remove the poverty mindset of playing for charity, the sooner you will find yourself getting calls for great paying gigs!
Be crystal clear with how much you are making if you're a hired gun, or have a contract with a deposit if booking the gig yourself. The term professional literally means getting paid for what you do. How can we pay for our equipment, gas, practice space, marketing, website, food, rent, etc., if we don't expect to be paid? I started out making only 25 to 75 bucks a gig as a super green 18 year old. As I built my reputation over the years and became a bandleader myself, I worked my way up to making as much as $1,200 for a single two-hour gig at a celebrity house party.
You can earn a living playing music! Take pride in your craft and know your worth, it is one of the most rewarding and fun jobs on the planet. When someone tells you that you made their wedding, party, or event successful and memorable, you will forever be a part of that person's life. Playing music for people is one of the most meaningful services you can do, right up there with being a doctor, pastor, or philanthropist. We make a difference in people's lives!
Bonus Performance Tip: Master the Hi-hat 
As a drummer in a calypso band, your most important tool is the hi-hat. The hi-hat drives the groove and it gives the song its feel. I'm always working on my hi-hat technique. My advice is to experiment with playing on every surface of the hi-hat to get a good feel. Sometimes that means playing with the shoulder of the stick on top of the hi hat and not opening it all the way but just slightly to get a thick open hi hat sound. To me, drummers that only play with only the beads of the stick sound wimpy and don't drive the band as much as a drummer who plays "through" the cymbals and drums with the shoulder of the stick.
Putting on a metronome at 112 bpm and playing a Soca hi-hat pattern consistently for 10 minutes can be one of the best practice sessions to get you some gigs as a steel band drummer. The hi-hat is the supreme timekeeper. I cannot emphasize enough the importance of keeping good time and grooving.
Steelband music is dance music at its core and when your time is off, it won't make people dance, and you won't get hired again. Getting your hi-hat pattern to sound like an 1980's soca drum machine track is a good thing. Record yourself, and watch the crowd. Are they dancing? Are they engaged by the rhythm? They should be! Work on it!