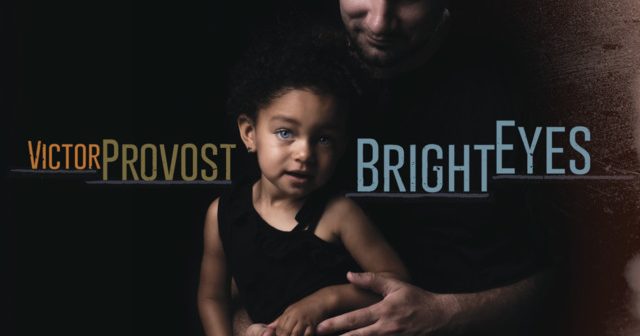 Jazz steel pannist Victor Provost continues to push the limits of the steelpan and his own virtuosity in his newest album "Bright Eyes."  Provost is undoubtedly at the forefront of the small, but promising world of jazz steelpan and this latest release delivers with world-class players and compositions. Aided by a rhythm section comprised of pianist Alex Brown, bassist Zach Brown, and drummer Billy Williams, Provost takes you on a musical journey that combines everything from hard-hitting funk and Afro-Caribbean fusions to more introspective and soulful compositions.  Also featured on this album are heavy-hitters Tedd Baker on sax, John Lee on guitar, Paulo Stagnaro on percussion, Joe Locke on vibraphone, Paquito D'Rivera on sax, Ron Blake on sax, and Etienne Charles on trumpet.
"Bright Eyes" begins with the in-your-face funk fusion "Eastern Standard Time," reminiscent of a Michael Brecker tune, featuring the driving and tastefully haunting playing of guitarist John Lee and unrelenting sounds of saxophonist Ted Baker. Provost's harmonic mastery is quickly apparent in his solo as he skillfully weaves through the tunes' intriguing changes, at times stretching the tonal limit when he takes it out.
"Fitt Street" draws its name from a street located in the neighborhood of Woodbrook, home to several of Trinidad's panyards in its capital city, Port of Spain. Billy Williams' crisp, tight, and funky playing shines on this track and provides a solid yet energized foundation for pianist Alex Brown to stretch out on with a Chick Corea-esque rhodes solo. If Provost's virtuosity was not firmly established on the album's first track, this one certainly does it.    
The title track "Bright Eyes" comes across as a very heartfelt and adventurous composition and is perhaps the strongest of the album. Although I felt the vibraphone could have a been a little more present in the mix, it seemed like a natural fit for this tune and Joe Locke predictably provides an impeccably virtuosic solo. Provost again displays his harmonic mastery and fluidity with an almost dizzying solo, even throwing a little blues in at the end.
Provost pays homage to one of the founding fathers of calypso, Lord Kitchener, with a progressively mature rendition of the classic "Pan in Harmony." The re-harmonizations and contemporary feel balance nicely with the song's original material and calypso groove to create a track that is very accessible and still feels right at home with the album's other tracks. I especially appreciated the opportunity it gave Provost to let the pan be a little more revealed, as much of the subtle nuance of the instrument is difficult to capture and recreate when combined with louder instruments.  
"Homenaje" seems to pay tribute to Provost's Caribbean influences, especially that of Cuba. The track begins with an ethereal and captivating introduction transitioning into a much more rhythmic section reminiscent of an Andy Narell-style tune with a very catchy melody. At this point, the track departs into a montuno section for Paquito D'Rivera's solo. Although I thought this generally worked, the montuno came off as a little forced to me. That being said, all the playing on the track is well-executed and both D'Rivera and Provost's solos provide some nice stylistic contrast to much of the other material on the album.
"Fete Antillaise," French for Caribbean Festival, provides an interesting fusion combining rhythmic elements of neo soul, samba, songo, and soca all mostly in three. Alex Brown plays a great solo on this track striking a good balance between bluesy and contemporary vocabulary delivered in a very clear and direct way. Like all the tracks on this album, "Fete Antillaise" is very polished in both its sound and compositional structure.  It's clear all the arrangements were very thoughtfully crafted both in terms of the architecture of the overall forms and who is featured on each track.
All in all, Provost, his rhythm section, and special guests managed to create a top-quality contemporary jazz fusion album that took listeners through a wide variety of feels and moods with expert playing and truly excellent compositions. The careful crafting of the album comes through strong and overall I felt the recording and production to be very good.
The steelpan is an inherently difficult instrument to record and blend and although I thought its overall volume to be good,  I found myself at times wishing for a little bit more presence and articulation out of it. This being said, the overall product certainly did Provost's playing and his low G tenor pan more than justice. Provost has certainly helped push the musical realm that steelpan can comfortably exist within and continues to pave the way for its future in contemporary jazz and beyond.   
For more information on Provost, visit www.victorprovost.com.