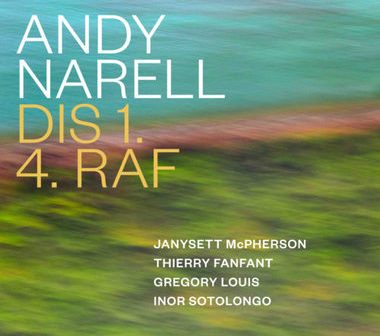 As challenging as breaking into the music business can be, staying there can be even tougher. Once success is achieved, one must consider all the obligations the come with it, from traveling for the next gig, to conducting workshops, and staying on top of correspondence for said work. On top of all that, there is the critical task of composing and learning new music both to play live and place on the next album. The trick is, how does one balance all of that and create a compelling album that lives up to the name they've worked so hard to create? That question is answered by Andy Narell with his latest album release, "Dis 1.4. Raf," which is more than just one disc of brand-worthy music, but two.
The double album, named as a tribute to the late Caribbean Jazz pianist Raf Robertson, a close friend of Narell's, is split into two for good reason. The first disc features a full band quintet, made up of Narell on double seconds, Cuban pianist Janysett McPherson, Cuban percussionist Inor Sotolongo, bassist Thierry Fainfant and Gregory Louis on drums. With the title track opening the album, the band quickly sets the tone for the rest of disc 1 by presenting a well-mixed, crisply executed sound.
Aside from the wonderful foundation laid by the rhythm section, McPherson supports the melody wonderfully. In addition, she delivers a hip, tasteful solo at the 1:40 mark that builds into a virtuoso delivery for two minutes, which should impress even the most expert pianists. Another notable moment in the piece occurs just past the seven minute mark, with the Latin jam, which has a melody all its own. The section morphs into a hybrid that includes both the latin rhythm groove and a 6/8 African groove, both dealing for attention, while simultaneously supporting one another through their similarities. This facet is something unique to Narell's standard fare given how his past albums keep less embellished formats. Nonetheless, although the piece comes in at a hefty 11:26, it hardly feels long thanks to its original purpose as a full-fledged Panorama chart in the 2016 competition, which made it structurally strong, despite its length.
The cornerstone of any great album is its ability to not only contain well-written music, but to continue established themes and ideas throughout that album to create one cohesive work. In the case of this album, Narell continues themes throughout, most notably in the song, "Abacoco," which carries the theme established in the title track's 6/8 section into a slower, more introspective ballad. On the opposite end of the spectrum, the song, "Dance Class" opens with percussion and an exuberant vocal. From there the piece establishes its main theme, with hand percussion featured prominently throughout to support Narell's beautiful melody.
The remaining pieces on the album are just as impactful, all featuring long, enjoyable solo sections to highlight both pan and piano appropriately. "The Last Word (oui ma cherie)" is another Panorama-turned-jazz-composition that fits well on the album, having never been released as such previously. Disc 1 ends on the syncopated positivity of "A Dazzle of Zebras," which incorporates more of the African 6/8 rhythms established earlier on the record, while steering clear of most minor chords to leave listeners in a feel-good state.
Disc 2 opens with the sweet sounds Narell's solo pans soulful expression of Ray Holman's "If We Really Want." Considering the other diverse selection of pieces on this disc, this piece is perfectly placed, setting a more heartfelt tone, which fits well with the dual instrumentation used. The album continues the bumpy, Caribbean jazz sounds Narell is known for with John Coltrane's "Moments Notice" then changes gears for a surprise with a medley of "If I Only Had a Brain/Somewhere Over the Rainbow," from "The Wizard of Oz". Given the seamlessness of the two pieces, it's a wonder someone hasn't recorded them like this before. Perhaps the most noteworthy moment of the piece is Narell's use of chord embellishments as a departure from the original piece. The effect is appropriate within the context of the instrumentation, allowing the steelpans to sing freely without notes bumping into conflicting voices like the guitar.
Despite having recorded "Izo's Mood" in the format of a full steel orchestra, Narell had not yet recorded it in this format, which seems perfect given its haunting, solitary vibe. Emotions aren't always easy to convey with less instrumentation, but in this case, there's never a question about the powerful spell the piece casts on listeners.
The next track is as much of a surprise as welcome relief due to its change in mood. "Oleo," by Sonny Rollins, offers listeners a classic jazz approach that lets Narell solo over a fun-loving walking bass line and rhythmic blues changes that make you feel like you're in a cafe on a Tuesday night in New Orleans. Interpretation aside, the piece is the shortest on the album, at 3:39, but adds the break the album needs to not feel trapped in its own percussion-less skin.
The final two tracks, "There Will Never Be Another You," return listeners to the more thought-provoking, introspective feelings the first half of the disc evoked. After finishing the disc, it's easy for one to compare it with Narell's previous album, "Behind the Bridge," due to the similar instrumentation and compositional makeup. But they would be missing something key: evolution. This disc holds up through repeat plays and can fit multiple moods. Even if one were to try and relegate it as a beautiful background album, they'd quickly find their toes tapping, heads turning and ears smiling at the smooth sounds of both Narell's signature style and overall pleasantry of the pieces he selected.
Creating a double album is an enormous challenge for any artist. Maybe they want it to capture the zeitgeist of the times like Smashing Pumpkin's "Mellon Collie and the Infinite Sadness," or show how music IS life with Stevie Wonder's "Songs in the Key of Life." Those who follow Narell's work know that much of the album is taken from songs he's been working on or performing over the last several years. But it's his job as an artist to put something on wax that we have either never heard, or hope to hear presented a little differently. Not only did he succeed, but he presented listeners something different from any other steelpan record in history. Whether you like his music for its intentions or feel he alienates the original purpose of the instrument, there's no denying that "Dis 1.4. Raf" is as well-produced as they come. Here's hoping we get more of this kind of quality down de road.