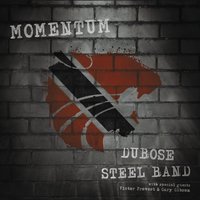 You can't beat an album that begins with a Samba count off. What makes that concept even more special is when the album is well-executed and professionally recorded. What blew me away the most about "Momentum" was that it wasn't recorded by adults, but kids at Dubose Middle School in Summerville, South Carolina.
The opening track, Feijoada, featured a Victor Provost solo that did not disappoint, highlighting his signature bebop-centric style, darting in and out of the chord progression in a blaze of melodic wonder. In contrast, the second track, Rust on de Bass, a slow soca, featured Gary Gibson, taking a solo on the Invader-style tenor. The solo was short and sweet with very few notes, but fit the simplicity of the song perfectly and was a nice addition.
The album would continue like that, with little surprises on every track, allowing for the unexpected to take hold rather than having a consistent mix of nothing but one style of music like one might find on some steelband albums. With the pleasantly dreamy Summer Rain, composer John Willmarth establishes a gentle groove while exploring a theme that transitions between the tenors and doubles to the low pans of cello and bass. The song is more about creating atmosphere than following a standard melodic/harmonic structure. It builds to a climax of tri-tone chords one might find in a film score before returning to the original 3/4 groove established at the start of the piece.
The album heads back to soca country with the next piece, Why Are You Looking At Me Like That?, written by Gary Gibson. It's a fun tune that helps shift the album's energy upward. Samba de Sando features another solo by Gary Gibson, this time, showcasing a more complex expression of melodic ideas that fit the chords expertly. The album's title track, Momentum, utilizes a dissonant opening with hints of the melodic minor sounds found in Middle-Eastern music, but shifts to a ballad-like piece reminiscent of the earlier Summer Rain, but with more percussion and a slightly threatening presence.
My favorite track on the album is definitely Exit Strategy, written by Gary Gibson. The tune opens with a minor-keyed back-beat soca groove and a call and response between high and low pans. The verse melody has a Gershwin-quality to it before it switches to a sweet chorus melody that maintains the ending to the verse's phrase. It's short and sweet at just under three minutes, but leaves you wanting more.
The last two tracks, Sunburst and Great Lakes Jump Up, continue the back-and-forth between compositional styles (Willmarth and Gibson, respectively), while allowing one last solo feast for Victor Provost on Sunburst. The piece changes feel but allows Provost to explore a sentimental rock groove in the verse section. The song transitions to a more exploratory, bold chorus Willmarth has made his signature on this album. The last tune is just a fun soca, the perfect note to end on for any album.
I have to admit that when I was approached to write a review on this album I had my reservations. After all, who expects most middle school bands to sound as tight and professional as bands you might find in Trinidad & Tobago? I can say with great confidence that this album exceeded all expectations. I highly recommend it to anyone looking to listen to great steelband music or for those looking for an example on how to execute an album for their school steelband program. The formula is simple: compose fresh, original music, get your kids to execute it at the highest possible level, bring in special guest artists, and record it with quality equipment to make sure nothing is lost in the final product.