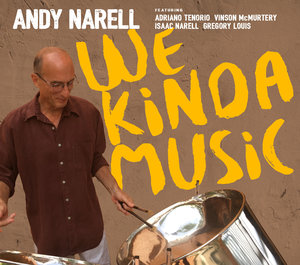 Andy Narell has released a new album called, "We Kinda Music." The album features six tracks of his original music, highlighted by a full steelband performing his pieces from his last three stints as Panorama arranger for birdsong Steel Orchestra out of Tunapuna, Trinidad.
"It's out. 'WE KINDA MUSIC' – my new CD w/the panorama tunes from 2014-15-16, plus new music for live and sampled pans," Narell said in a statement on his Facebook page. "Featuring Adriano Tenorio, Vinson McMurtery, Isaac Narell, Gregory Louis, and the Great Animal Orchestra."
The Panorama tracks include "We Kinda Music", "Pan Magic" and "Dis 1.4. Raf". Other tracks include the sound-effect-driven "Jungle Music" and the acoustic piece, "Etude for Ellie," paying tribute to steelpan innovator, Ellie Mannette.
The album is available for purchase as both a digital download and physical CD at www.andynarell.com, plus major digital outlets like iTunes, Amazon and Spotify.