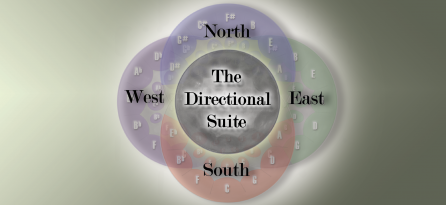 The number of quality instructional books for steelpan players can probably be counted on one hand. That is especially true given the level of difficulty involved in writing a book. Which is why when a good one comes along, it should stand above those mediocre efforts and be remembered for those virtues that it consists of. Such can be said of the recent instructional book for steelpan written by Chris "Krushar" Patterson, "The Directional Suite: A Collection of Four Solo Etudes for Circle of 5ths Tenor Pan."
The 32-page book consists of four pieces, titled in directions that match, and effectively name, each area of the tenor steelpan. Since the book is focused on a specific instrument, it allows the user to be more in-tune with the lessons contained within, unlike other instructional books on the market that may be more general in nature. While all instructional guides are designed with a certain usefulness, this book's main benefit seems to be in its structure, as each section is mapped out with precision and a specific goal in mind.
The first section, "South," centers around the key of Bb, and its focused area of the lower part of the pan. It introduces the reader to the "sweep" concept, designed to double each hand while alternating back and forth. It is one of several techniques given a name in the book to help the reader understand that particular technique. This section is designed for beginning to intermediate players.
As the "South" section continues, it increases in difficulty, changing tempo, dynamics, sticking and time signature. The same is said for each subsequent section as section II, entitled, "East," demonstrates with speed and dynamic variations from the start, followed by lots of triplet runs and variations in offbeat triplets and time signature changes.
The four keys used throughout the book, Bb for "South," D for "East," E for "North," and Ab for "West," are each selected and matched with their respective difficulty not just as an arbitrary excercise to take players around their pan, but to focus on often underutilized keys in relation to their location. For example, as most beginning players can attest, the first songs they are likely to learn are Calypso standards like Marianne or Sugar Bum Bum, which are often played in keys like F and C major, respectively, for ease of both playing and teaching. This means, as a player continues learning, other sections of the drum are neglected and players aren't given proper exposure to the full range and capabilities of their instrument.
Part of the reason for limiting players to one area of the drum is also for simplicity. It can often be awkward to play on only the left or right sides of the pan, while players on multi-drum instruments, like double seconds or triple guitars, are able to keep each hand in one drum most of the time. But like any technique, practice makes perfect. Players are given even more opportunity to perfect the techniques in the book thanks to Patterson's lessons being explained in more detail through PDF links on his website, www.krusharmusik.com. Patterson's supplements are a good starting point for those on the fence about purchasing the complete book. The sections cover the basics of what the book covers, explaining the "sweeps" technique and providing tips on what to remember when practicing each technique. The website also has a comments section at the bottom in case viewers have questions.
As an instructional book, The Directional Suite achieves its primary goal, taking players around their instrument, allowing them to stretch their abilities and learn how to master keys and techniques that may have been previously unknown to them. It also provides opportunity for live performance, as the musical compositions provide a challenge for players to showcase their talents to audiences.
As a professional player myself, my goal when reading a book like this is to determine if I left with more knowledge than before I starting reading. In this case, the book not only exceeded those expectations , but made me review it enough times to wonder what I missed.
The book is available for purchase at Ramajay.com for $15.99.
As a professional player, composer, educator, session artist and clinician, Patterson has a proven track record in the steelpan and percussion world, having worked with artists like Aretha Franklin, JoJo Hermann of Widespread Panic and Kid Rock, among others. He has also been featured in Modern Drummer and performed twice at the Percussive Arts Society International Convention (PASIC). His recently released album of original music, "Element" is a steelpan-centric exploration of various styles, including World, Jazz, Funk and Electronica. The album is available through his website and through iTunes, CDBaby and Amazon.