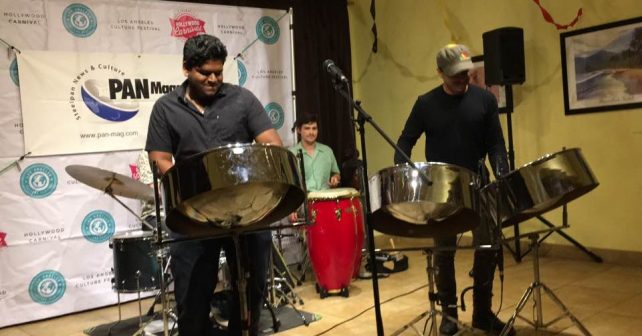 5-9-2017 — Steelpan virtuosos Johann Chuckaree (Phase II Pan Groove, IndigiSounds) and Alan Lightner (Pan Ramajay, Game of Thrones Live Experience) thrilled hundreds of viewers during the Los Angeles Pan Shootout 2 on Friday, May 5. The duo battled it out with the backing of a live band to showcase their individual styles as steelpan artists.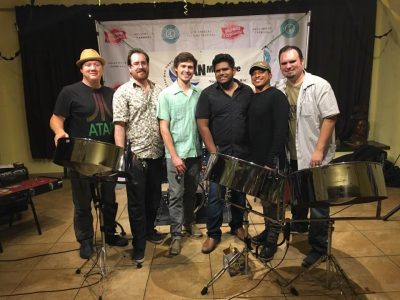 The event took place at Callaloo Caribbean Kitchen in Long Beach, Calif. Over 30 guests were in attendance, with nearly 400 more viewers watching through Facebook Live. The performers took listeners through a variety of musical genres to showcase both their own improvisational abilities and the capabilities of the steelpan. Songs performed included "Calypso Music" by David Rudder, "One Love" by Bob Marley, "Summertime" by George Gershwin and "Sugar Bum Bum" by Lord Kitchener.
"We are very proud of the job both of our chosen performers did showcasing the capabilities of pan," said Ted Goslin, creator of the event and Editor/Publisher of PAN Magazine. "It is always a privilege watching such talented musicians work. The band also did an amazing job given that none of the music performed was rehearsed. Each performer had their say about what was to be played and the band ultimately crafted a set list based on familiarity with certain songs. I'm grateful that the musicians, venue and promoters worked so well together in making this night a success. We hope to put on many more in the near future."
Co-hosting the event was the Los Angeles Culture Festival, a non-profit organization that helps promote culture in different events throughout Los Angeles, as well as feeding the homeless. The organization will be presenting the Hollywood Carnival in June and donated two tickets to the raffle at the L.A. Pan Shootout to help promote the event.
Join the mailing list or stay tuned at pan-mag.com for more details on the next L.A. Pan Shootout and other pan-related events.