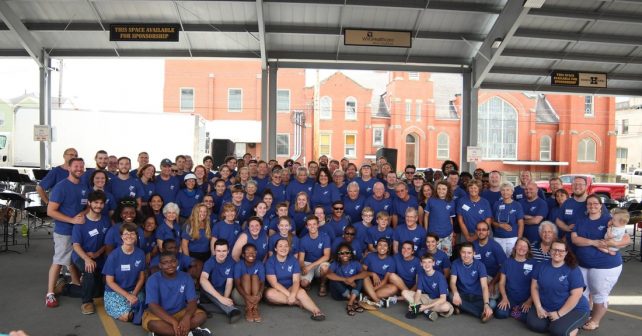 The 2016 Mannette Festival of Steel concluded on July 16 with a record number since its rebirth four years ago with new director, Dave Longfellow. The event took place in Morgantown, W.V. and included a week-long workshop and final concert, which featured four different groups and clinicians Andy Narell, Jeff Narell, and Tom Miller.
"It was great. We had 108 people this year. It's definitely a record for us. It's as big as it's been since I took over four years ago. I think there were 33 people there the first year and it's grown steadily ever since," said Longfellow. "We had four bands this year; beginning, youth intermediate, adult intermediate and advanced band. I think that's the best way to do it. I'm not trying to split up by ability but intermediate seems like the largest pot of people. Some who return to the event feel they have done the beginning thing but maybe should try the intermediate level. We want people to challenge themselves and feel free to be where they want. People can move around and they do. We in no way want to tell people where they should be."
In addition to the high numbers, the event also saw the return of Miller, who has been busy with his own event, Pan Ramajay Fest in recent years. Being a long-time friend of Mannette, Miller is valued for his educational prowess, making him the perfect fit for the event, which features both a week of learning new music and lectures on different subjects from experts like Miller, both Narells, Longfellow, and steelpan academic Dr. Brandon Haskett.
"This year we had Tom, which has a lot of experience at these festivals. Ellie has always considered him a great teacher. He's been here before and it's great to have him back," Longfellow stated. "Over 50 percent of our participants were first-timers. Jeff and Andy are kind of the staples. I worked with the beginner bands and intermediate bands. Every group got at least one or two groups from me. I think everybody had a pretty great time."
The goal of the festival continues to be the enrichment of the current steelpan landscape through education. Providing players a place each year to learn about modern ideas and practices, as well as learn new music, is what draws new and returning participants to the festival year after year, according to Longfellow.
"We're trying to bring people together and bring new original music for pan, which is happening. It's still very much on track. We're actually checking boxes off our mission statement. It's a long game," Longfellow said. "It's nice to see as we are moving forward, we're filling the gaps for the mission statement rather than changing it. It's best to check it off as we go. We have hit on those points better this year than we have in the last couple of years."