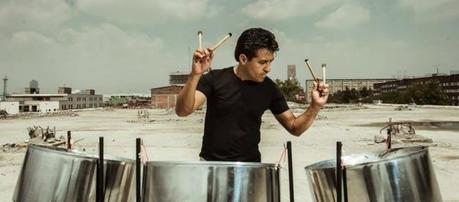 For natives of Trinidad & Tobago, or those who grew up playing in grade school or college in other countries, having access to steelpan is commonplace. The same is not true for those without either of those luxuries. Lucky for Mexican percussionist Juan Carlos Cirujeda that his fate would intertwine with the instrument at the right time.
While attending the 1992 PASIC (Percussive Arts Society International Convention) in Anaheim, Calif. Cirujeda was first introduced to the instrument while watching a Trinidian steel band perform.
"I could not believe the wonderful sound it emitted. From that instance, I knew I had to venture into it," he said. Four years later, Cirujeda would purchase his first steelpan, a tenor. That year, he was a percussionist with the philharmonic orchestra of Queretaro, Mexico. During the concert season, the director programmed "The Star Wars Suite," by John Williams, which featured the piece, "The Cantina Band." The piece features a part for steelpan, which Cirujeda eagerly volunteered to learn.
"I decided to   learn the instrument and be able to play that portion of the suite. It was an instrument that eventhough I had acquired, I had not studied in a form that I could execute," Cirujeda said. "I studied the sheet music and it was in this form that I had my first experience of performing live and before an audience of about 1,500 people."
Cirujeda's passion for all things percussion began at the Music Faculty of the National Autonomous University of Mexico, his alma mater. However, the school only offered traditional concert percussion instruments like timpani and marimba, which accelerated his desire to learn more about world instruments.
"Contemporary students of my era have not been able receive a more comprehensive formation of the instruments outside of those used in chamber music or symphonic percussion," Cirujeda said. "Therefore, my technical development in steelpan is experiential and based on the studies of the marimba concert instrument. It is in this form that I have developed my own technique." Since 1996, Cirujeda has been sharing the instrument with people all over Mexico, in addition to his other work performing concert marimba, which has influenced his musical style on pan.
"In 2015, I received a scholarship from the main culture organization in Mexico, the National Culture of the Arts Fund (FONCA). This was to help share the instrument in professional schools of music in Mexico City Puebla, Querétaro, Toluca and Tlaxcala," he said. "I imparted masters courses, concerts, ran transcriptions, and wrote pieces for steelpan. In this form I showed the history of the instrument along with  extended techniques for composers that assisted the masters courses. Today, I  share concerts in different forums and education centers in order to continue to promote steelpan."
As part of his promotion of the instrument, Cirujeda used his status as an educator to collaborate with a music school in Mexico on a program. But creating a steelpan program as part of a music school is difficult due to a lack of availability. That has resulted in a focus on marimba in recent years. "But with all that it has attracted composers to write steel drum pieces and with time it will attract more percussion students to study the instrument," he added.
Currently, Cirujeda has two projects in progress. One is to use the steelpan with guitar and double bass to execute the music of Argentinian composer Astor Piazzolla and the other to combine pan with electronic mediums. In his quest to promote the instrument in Mexico, Cirujeda performs pan as much as possible, when he isn't giving concerts on marimba. His pan performances have increased thanks largely to the notoriety he's received as a marimba artist. In turn, he has received invitations to perform with Mexican symphonic and philharmonic orchestras.
"In the future, it is necessary to educate the country in order for steelpan to have more recognition and for more percussionists to show interest in playing it. In this form we can have a steelband culture as it has happened in the United States," Cirujeda said. "In Mexico, concert marimba has had an important development over the span of approximately 25 years. Steelpan may and should have that same development."
Thanks to his chamber music background, Cirujeda has been able to segue the instrument into that realm as a stepping stone to acceptance for the instrument in Mexico. But he stresses that performing the instrument with others is only part of promoting its potential within the country and its culture.
"The support of the cultural institutes can push and promote any types of groups, musical styles, and instruments that are less common in a certain country. If these institutions can financially support and spread concerts, then success will be a given," Cirujeda said. "Composers should get to know and compose for steelpan. Their interest for realizing pieces is fundamental for any instrument to survive. Steelpan is such a beautiful instrument that I have not found an audience or artist who has not been marveled by it when they hear it or get to know it. It deserves to be at the highest level of execution and instrumental composition."