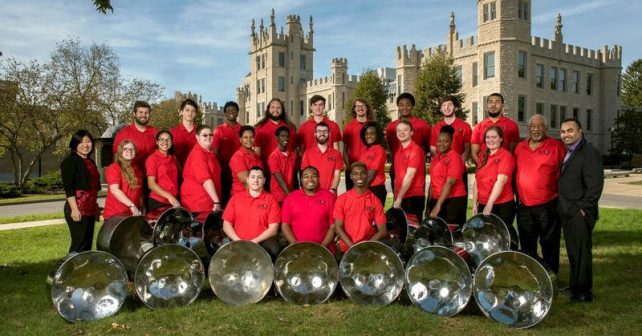 NIU Steelband will be hosting a concert on Sunday, November 19th at 3:00 PM at the NIU School of Music in the Boutell Memorial Concert Hall. The band has been in operation for over 40 years and is directed by Liam Teague and assisted by Yuko Asada. Admission is free.
The concert program consists of classical, calypso, pop, and pieces from China and Japan. The band has gained a reputation for its unique and eclectic arrangements, including a spectrum of artists from Bruno Mars to Andre Tanker.
In addition to the concert, the event marks the official release of the book, "Steel Band in Education," which chronicles the history of the NIU Steel Band. The book, published by the Northern Illinois University Press, was written by steelpan historians Ray Funk, Andrew Martin and Jeannine Remy, who will all conduct a reading prior to the concert at 1 p.m., host a master class at 2 p.m. for invited K-12 students, and will be signing copies of the book at the conclusion of the performance.
The NIU Steel Band was founded in 1973 by Al O'Connor and was the first majority university steel band in the U.S. It was also the first and only university in the country to offer a major for steelpan studies. The program has generated a host of well-known musicians who have gone on to careers as performers and educators around the world, including Khan Cordice, Mia Gormandy and current director, Liam Teague. Guest artists that have performed with the group include Freddy Harris III, Robert Greenidge and Leon Foster Thomas, among others.
The book, "Steelpan in Education" covers the evolution of the NIU program and covers broader issues relating to steelband development in the U.S. university system. To purchase the book, go HERE.
The concert will be live streamed HERE. For more information view NIU Steelband's facebook page: facebook.com/niusteelband or call 815-753-1551.