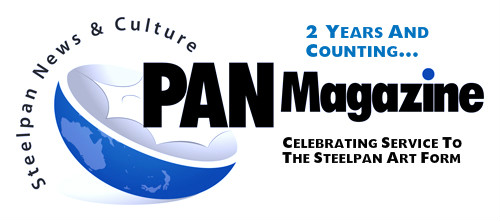 After two years of delivering high-quality content to the global steelpan industry, PAN Magazine (PM) has announced that it will hold a concert in recognition of the  milestone.
The concert will be hosted by PM Editor/Publisher Ted Goslin and presented in cooperation with the Los Angeles Culture Festival (LACF). The LACF is a non-profit group that promotes cultural awareness and provides aid to public schools, the elderly and the homeless population in Los Angeles.
The event will take place on Thursday, September 8, 2016 at Callaloo Caribbean Kitchen in Long Beach, Calif. and will feature a full lineup of guest artists that will include Tyler Hunt, Ross Harper, Joseph "Panhead" Peck, Einstein Brown and Alan Lightner. The band will also feature steelpan builder David Beery from Smarty Pans on six-bass steelpans that he himself built.
Callaloo, the Trinidad and Tobago-themed restaurant, has become a hot spot for local artists to feature their talents, with pannists often performing for dining patrons.
Although the event is free, every patron who donates $5 or more will receive a free CD from Long Beach steelband, Pure Steel, led by Ted Goslin. Guests are encouraged to arrive early as space will be limited for the event.