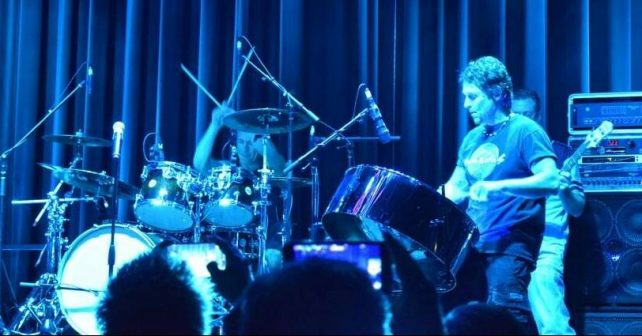 Drummer Stephen Perkins is known in the music world for many things. He's a work horse, known for playing in many different groups to keep himself busy. He's a humble rocker, which may be the antithesis of his day job as a rock drummer for Jane's Addiction. He also is perhaps the only rock drummer to use steelpan in a Top 40 rock band. Now he can add another accolade to this list: drummer for Tracy Thornton's Pan Rocks.
On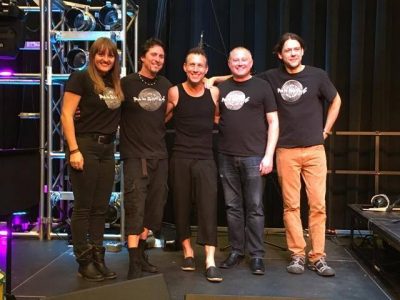 Monday, October 24, Perkins performed a clinic at Guilford Technical Community College (GTCC) in Greensboro, N.C. that featured him speaking to a crowd of about 75 people for around 45 minutes about his life and career. The Pan Rocks group performed two songs, "Baba O'Reilly" by The Who, and "Been Caught Stealing" by Jane's Addiction. The group consisted of three pan players and one bass player, which included GTCC Division Chair for Business, Creative and Performing Arts, Tom Nevill, Ethnomusicology Professor Kayleen Justus from Kennessaw State University, steelpan builder/tuner Glen Rowsey, local security guard Andy Norman on bass, and Tracy Thornton.
"The guy is crazy cool. He's totally the reason I play pan. It was crazy to be on stage with him as a peer," Thornton said of the experience playing with Perkins. "This whole thing came together through Tom Nevill, who came here to GTCC about a year ago wanting to shake up the place. He didn't understand why we didn't do a lot around town but it's because when you're local, you're nobody. Thomas Johnson, TJ, is the Dean of Music Recording and Production at GTCC. He was an engineer and co-producer of Porno For Pyro's second record, Good God's Urge and their keyboard player on tour. He and Tom got together and had the idea to have me come jam with Stephen. I said 'Hell yeah!' Originally we thought we'd do a 12 piece, but that didn't happen. It was nice that we kept it small."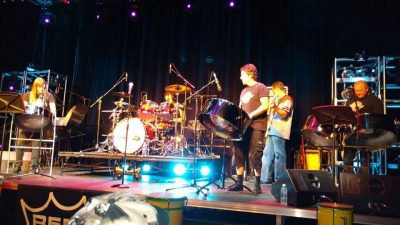 Perkins looks questions from a crowd comprised mainly of Jane's Addiction fans and local drummers. The event also featured a 15-minute drum circle with Samba drums. World music has always been of interest to Perkins, which is the reason he became interested in bringing steelpan into Jane's Addiction, according to Thornton. It was Perkins who inspired Thornton to take up steelpan in his youth, as well as part of his inspiration for creating his Pan Rocks program, which has full-sized steelbands perform rock classics all around the country.
"He's probably one of the nicest most down to earth dudes. He's not a rock star, he's just a player. He'll play with anybody anywhere. He's just one of those guys," Thornton said. "He's totally not into the steelpan world. He picked it up on his own. He's probably the reason a lot of people picked up pan."