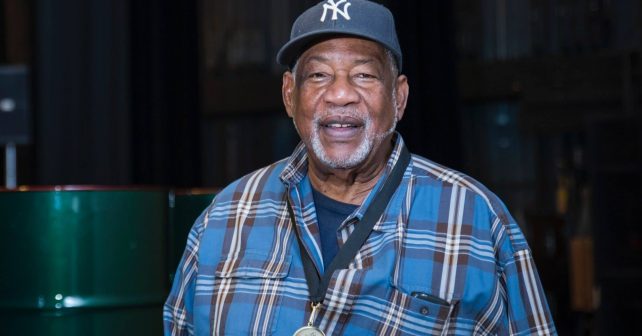 A Legend Says Goodbye
After spending the bulk of his life playing, arranging, building and teaching steelpan, Cliff Alexis has retired from his work at Northern Illinois University (NIU). Alexis has amassed a career considered to be legendary by many in the pan community, thanks largely to his creating the first and only University steelband program to offer a degree in steelpan.
Renowned steelpan educator and arranger, Dr. Jeannine Remy, wrote the following of Alexis regarding his induction into the Percussive Arts Society (PAS) Hall of Fame:  "Clifford Alexis has come to represent quality and innovation for steelpan builders, tuners, educators, performers, and aficionados. He is known the world over as a steelpan builder/tuner of the highest echelon, a skilled performer, a creative composer and arranger, and one with a natural ability to teach and inspire students from all walks of life."
Alexis recently sat down with PAN Magazine to discuss his life and career.
Q: How long have you been teaching steelpan at NIU and how did that tenure begin?
A: I've been here 30 years exactly. Al O'Connor brought me to NIU in 1986. I was teaching pan in St. Paul Minnesota for 14 years. Thomas Ivey was the percussion instructor at the University of Illinois. I used to come to NIU to play percussion. He told me any time he's in a position of power he would bring me there to teach. So I came down here. I used to call the school looking to offer my services as a pan tuner. It doesn't work that way. So I became employee for the musical instrument. Because I play pan, compose, arrange, and tune pan, they made me an employee. I covered all the bases.
So we together with Al, we started the pan major program where you could get a Bachelor's and Master's degree here. There were some kids that followed me from Minnesota. A lot of professors didn't understand why we offered a pan degree. It persevered. A lot of the students couldn't read music at that time. I saw it happen, subsequently, they all became real professionals. We had people like Seion Gomez, Denise Lowe and Liam Teague come on board and the program has been here ever since. Part of my thirty years are part of my daily operations of what's going on here.
Q: What have you been doing since retiring in September of 2016?
A: I'm a volunteer at school. I'm getting older, so Yuko Asada took over my job. She has been here for over 14 years learning to tune and build pans. You get a little tired of the daily grind, but I still go for rehearsal every day and I'm an official volunteer which I enjoy.
Q: What will you miss most about your position at NIU? 
I'll miss the students. Once your students grow, that's one of the most important things.
Also, being part of starting the degree program at NIU. There's no other school that offers a Bachelor's and Masters degree on steelpan right now. We have students that can concentrate on the instrument right now. That's the most significant thing for me. There's no other school in this state that comes near to doing that after 30-something years. A lot of people called here asking questions about it. I remember quite vividly Alan and I going to a faculty meeting and he brought up questions about a major in steelpan and a guy jumped up and said 'What's that gonna do for this university?' There was a second meeting and everything worked out. It's quite a job to get other places to accept something like that. When I was here, they asked other questions about what else we'd have.
Q: What would it take for other schools to offer the same steelpan degrees as NIU?
A: It would take somebody with a lot of fortitude to convince the upper hierarchy that this is something important and for them to buy into it. There's a lot of schools that have steelbands. When you check on these schools, it's part of the percussion department, but now it's it's own entity. Most other places have a little pan as part of their percussion department or they do it as part of a percussion concert.
Q: How is the program funded?
A: The school had not come on board in terms of funding. Most of the money we get for the Master's program comes from a private donor, Lester Trilla. He's been donating for 25 years. He sold his company and still donates out of his own pocket.  He owned a steel drum barrel company, Trilla Drum Company. I met him when I used to buy barrels. I got him on board. He paid off Liam Teague's undergraduate and Master's degree. Most of the funds we get for kids from Trinidad that come for their Master's degree. They're stipend is paid by him. It's still an uphill battle. We can't get people here for their Bachelor's degree, especially from Trinidad. The most we can do is a Master's program. Money is the thing that speaks here.
The word has to get out. You can't even get a degree in steelpan in Trinindad. They have this Bachelor degree with a little bit of everything, but nothing comprehensive. The other thing you have to look at too is what's in it for you after you graduate? Where are you going to work? You have to be realistic. A lot of kids would want to get a pan degree, but if their parents pay for it, they want to know what they're going to do after they get this pan degree.
Q: What kinds of jobs are available for steelpan majors?
A: One of the things suggested is Music Education in pan. We had two kids that got Music Ed degrees in pan working at schools; they could teach. Plus, pan was their main instrument. But if you don't have that, then it becomes difficult.
In England, there's a lot of pan players with a lot of schools hiring guys to come in and teach, then teachers will come out and complain that they don't have to go through college to get certified. I understand it. I strongly believe it's a good thing to get a certification. I got an opportunity in St. Paul, but I wasn't a certified teacher. I came there in 1965; I think that wouldn't happen today with testing and all of that. But in Minnesota there were quite a few people with degrees that had to deal with segregation guidelines.
If you know your craft and papers to back it up, you walk into the school under guide of lead teacher, called educational assistant. I was in performing arts departments of school. that was a very good model and produced a lot of kids who went out and made it big.
In St. Paul where I worked, it was pretty unique and you got the same pay as a regular teacher. The only draw back was it was a contract only for one year and I lasted 14 years. A lot of people who came into dance and acting, at the end of every year, there is a graduation form for students for student evaluations of the learning experience. If they write you up, it means you're gone. I lasted 14 years. I never quit. I resigned my position. A lot of people were on pins and needles. You have to be nice to these kids because if they write you up you're gone.
Q: What have been your biggest challenges as an educator of the steelpan art form? How have you overcome them?
A: Getting people to recognize it as a serious instrument. It still is. People have an idea of pan is somebody in a straw hat and prickly shirt. It's Harry Belafonte syndrome that's gone around and wouldn't go away. People don't have any idea that it's serious music. When I was growing up in Trinidad we had music festivals. They had adjudicators from London who castigated it and said it wouldn't go anywhere. The next year, they came back and played all kinds of sounds like a Waltz. They said it sounded like typewriters. The next time they had all these classical tunes playing. There are now tons of schools with instruments. I was one of the first that started selling pans to schools. To see it grow like this I can't believe it.
I came to this country in 1964 with the National Steelband. I went back to Trinidad, then came back to Brooklyn as a pan player. I hung around Brooklyn, went around the country, lived in Hollywood for four months looking to make it big; that didn't work out. I thought all I had to do was stay there and make it big. Then I went to Reno and Las Vegas. I would play 21 days in Reno but that gets tiring. They make all the money, you're just a warm-up act for 15 to 20 minutes. Then I went to Minnesota. The teaching system is what had me. Then I taught myself to build and tune pan in Minnesota. The first school I went to I couldn't read music. I found they didn't need me; I needed to latch on to the next thing. I said, 'Let me learn to tune pan.' I knew all the theory about pan tuning from hanging around Ellie [Mannette] and those guys in Trinidad. I had nobody in Minnesota to look to. I taught myself to tune these instruments. I would be in there all night at the school experimenting. Day by day I started getting it. A lot of guys ask who was my teacher. I had no teacher. I persevered and understood what it was. It's no big deal making a pan, really because if you understand certain things it won't become a big deal. There's lot of guys here that learned it.
I did some research into metal work when building pans. It's one of the reasons I adore Mr. Trilla. The only time we get the proper metal to make pan is when we go to the steel mill. If we constantly buy from a barrel company, that's not going to make it. They just sell what they get from the steel mill. All these things about thickness and type of metal are important to know. I used to go in there. At the end of the day, there's no one that's making steel specifically for pan. Unless you want to invest into steel at $15,000 but what tuner wants to do that? We met with metallurgists and they will make what you want but no one has done that. You're still guessing. The material for pan tuning is a big guessing game. We're not going where the source is to the steel mill.
The true test in 2017 still is nobody has gone to the steel mill. We had a big meeting in Pittsburgh over 20 years ago. There were three or four metallurgists who said 'we can make what you want.' Nothing happened. When you look at the cost, it's took much for them. I'm only interested in how much they can make pans to sell.
WATCH: NIU Steel Band Performs "Uptown Funk" by Bruno Mars –https://youtu.be/eQwqw7BsN5Y