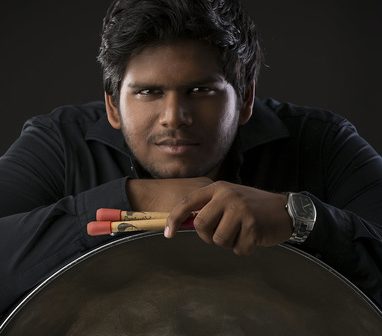 As a frontline player for the legendary Phase II Pan Groove, Johann Chuckaree has branched out on his own as a solo artist with three albums and a software company that creates steelpan samples for musicians and recording artists. The 26-year-old has had a meteoric rise in his native country of Trinidad & Tobago thanks to his virtuoso playing style and status as an aid and protege to steelpan legend Len "Boogsie" Sharpe, long-time arranger for Phase II. In addition, Chuckaree has been featured on CDs with Sharpe and Calypso artist David Rudder.
In this exclusive interview, Chuckaree sits down with Pan Magazine editor Ted Goslin to discuss his life, successes and goals with the future of pan.
TG: How did you get started with pan?
JC: "Since a very young age, 2-3 years old, I was with my parents at the panyard. As a result I always hear pan in my head. I started playing pan at four years old. My sisters are very musical as well. My family was always promoting music."
TG: What attracted you to the instrument?
JC: "I live literally a block away from Phase II's panyard. I would hear the band play all the time and my sisters began playing pan as well. Being a badly behaved child, I had the attitude that if they can play so can I. They taught me the music. The first song I learned was the national anthem of Trinidad. I joined the choir at the local Catholic church and began playing organ there, which provided me with a more classical music background."
TG: What do you do for a living, outside of pan?
JC: "I'm an ICT consultant. I build databases, point of sale, and wireless access points. I have a degree in information systems and management. I do IT security. I also work on Inigisounds, which I own. It's steelpan samples. Between those two I'm really busy."
TG: When was the first moment you realized you wanted to be a pannist?
JC: "I would catch on to music easily from Boogsie when he taught it. Soon enough, I got so good at learning the music that I was responsible to teach music to the rest of the band. I was 12. It was strange to have that kind of responsibility at that young an age. I had a long background playing pan. It was a different style of course. 'Boogsie' is not literate in reading music. Playing on the spur of the moment, it was a learning curve. It was 2003. I've since played in 15 panoramas. In the past I assisted in terms of taking the composition from him and working with a producer or artist he selected to sing the song. In the first few years, Nigel Ross took chords and bass lines. I worked with the singer to get the right atmosphere. There is no official succession plan in Phase II for an arranger after 'Boogsie.' A lot of people say that I am his protege. I like to be very humble and can assist when possible."
TG: What kind of challenge would it present you if you did eventually take over for Phase II or possibly another band as an arranger?
JC: "Phase II has been accustomed to 'Boogsie's' style for 40 years now. The band has over 15 second place finishes in Panorama. It is difficult to become a new arranger in that style. Musicians and bands are accustomed to a particular style. I would try to maintain 'Boogsie's' style with my personal flare."
"A lot of arrangers get their start at Junior Panorama. I would like to start in a medium band with a full range of instruments, a decent compliment of players and a group that is well-managed."
TG: How would you describe your musical style?
JC: "Being in Phase II for over 15 years, the influence has been heavily 'Boogsie.' It's basically everything. I've also been influenced by people like Ray Holman and Pelham Goddard, but my flare in terms of arranging is a mix between old school Calypso, a bit of jazz, and classical because of my background. I like to call it 'Callaloo.'"
TG: What was the inspiration for the album, In De Yard? What was your goal?
JC: "Part of me wanted to represent what the panyard felt like. I wanted it to be a snippet of a walk in the lanyard. Walking in off season. When you hear a band walk through in off season playing pop or jazz tune. It's a representation of what it is to be in a steel band. The album was launched in 2012.
"More recently, in 2015, I released an album called 'Soca Meets Pan.' I took a chance. The pan sides would play one of the more popular Socas or songs. David Rudder used a song that a lot of the bands chose. I began to ask the question, 'Why is pan left out from the mainstream market? Why were we playing segmented music? Why not current soca?' As a composer, it's difficult to play the current Soca. There are some popular Soca songs that are recorded well and have a good melody, but it's not consistent with all Soca music."
TG: What is your goal as a pannist?
JC: "To promote the instrument to a new generation of listeners because the average listener is unfamiliar with the potential of pan. I'd like to introduce pan to the global market and take pan to the world. Being introduced to music at such a long age, the opportunity was there to play anything. But I latched on to pan. There is something intrinsically beautiful about pan.
"You hear someone play piano or xylophone, you don't ask where the instrument originated. You're more interested in the style of music played on it. We're not waking up and smelling the coffee that it's in education, high school, universities, all over. Hopefully, soon it will be all over the world. You must remember your past but it's for the greater good in terms of introducing it to the worldwide market."
TG: What do you think pan needs to continue its upward trend of becoming more appreciated both in Trinidad and Tobago and globally?
JC: "Pan on the whole in Trinidad is a magical instrument. It's really a Cinderella story in terms of where it has come from where it was before. Being close to it we tend not to appreciate it as much. It's sad to see the disrespect it faces locally. One of my goals is to help the local market with pride of the instrument. I started by renewing the Soca feel with pan to the mass market. I wanted to help a younger audience to appreciate it more. I believe it should be part of the educational curriculum for schools. Why isn't the instrument they use in a classroom a steelpan? The respect and appreciation needs to start from a young age. If we as adults continue to push it, there is a better chance that it can continue and become more popular with the next generations."