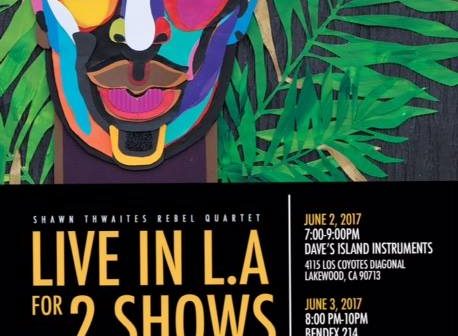 Shawn Thwaites, a world-renowned steelpan artist who has worked with Lauryn Hill, Walter Beasley, Esperanza Spalding and Native Deen, will perform at two shows in Los Angeles on June 2nd and 3rd, 2017. The first will be at Dave's Island Instruments in Lakewood, Calif. on Friday, June 2nd, from 7 to 9 p.m. The second will be at Bendex in Los Angeles.
His dynamic ensemble, the Shawn Thwaites Rebel Quartet (STRQ), will play jazz fused with Hip Hop, R&B, and World music. Thwaites has toured the world with the US Embassy and Native Deen, touching down on five continents. STRQ offers a bold, eclectic sound, drawing new energy into the familiar craft of jazz, according to Thwaites. The band hails from Sacramento, Calif., but is looking to expand its foothold, having already made a huge impact in the Northern California region.
Dave's Island Instruments, an intimate setting that seats up to 25 people, is the retail location of steelpan and handpan craftsman, pannist, and composer, David Beery. The setting recently saw Victor Provost lead a trio comprised of local musicians, Larry Steen and fellow pannist Chris Wabich.
Thwaites has gained notoriety for a regular YouTube series that details his exploits as a musician. For more about Shawn, go to www.strq.tv
The concert on June 2nd will be first come, first served, with no advanced ticket sales. Admission is $15. Doors will open at 6:30 pm. Find out more about the venue at www.davesislandinstruments.com.