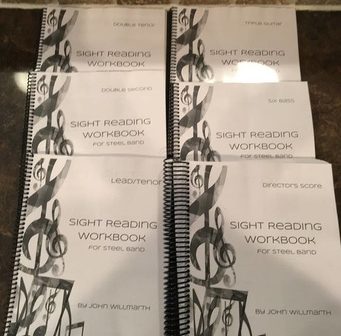 To help develop music literacy in their steelband classes, Summerville High School percussion director John Willmarth and his colleague Mike Greer decided to create a book of sight-reading exercises for steelpan players. The book was created as part of a new teacher evaluation initiative in their home state of South Carolina.
"My colleagues and I had been discussing the need for more resources to aid in developing music literacy in our steel band classes. Around the same time, our state adopted a new teacher evaluation scheme program called SLO (student learning objectives). Each teacher has the freedom to choose the focus of their SLO and sight reading proved to be a good pick for my classes," Willmarth said. "I have always written music for my students and I started off writing just a few exercises. With insight and encouragement from my colleague Mike Greer, we decided to expand the original material to better fit our SLO needs. I never intended to write a complete method, but once I got going it was hard to stop!"
To create the book, Willmarth worked out the notations on music notation software Finale!, then tried the books out in a pilot program at the Dorchester School District 2 in Summerville, S.C. with the support of Fine Arts Director Scott Rush.
"We are fortunate to have nine steelband programs here: one high school, four middle schools and four elementary schools," Willmarth explained. "We found the books to be a valuable resource for our students at all levels and my colleagues encouraged me to share it with some key figures in the pan community. It's been wonderful to receive positive feedback thus far."
The book is currently available by contacting Willmarth directly at jrwillmarth@hotmail.com. It will be soon sold on his website, www.johnwillmarthmusic.com where he also sells his own original compositions.