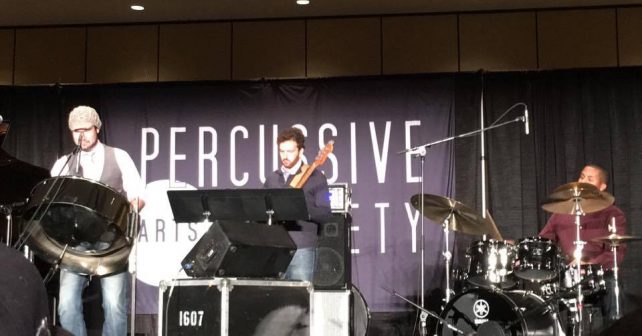 Photos by Diane Thomas
Pan jazz virtuoso Victor Provost stunned a packed audience of over 300 people on Saturday, November 12, performing music from his new album, "Bright Eyes." The performance took place as part of PASIC (Percussive Arts Society International Convention) 2016 at the Indiana Convention Center in Indianapolis, Ind.
"He's very humble and gracious about thanking others. When he plays, you can see his whole soul is into the moment by the sway, the shoulders that move to the beat and intense concentration," said Diane Thomas, local Indianapolis-based pannist and member of Skyfall Steel Orchestra. "He takes time to even snap a photo with a fan when there's a line waiting to snatch his new CD."
The quartet included Alex Brown (piano), Zach Brown (bass), and Billy Williams Jr. (drums). All players performed on Provost's new album, "Bright Eyes." Songs from the album made up the majority of music performed at the concert.
All aspects of the performance were meticulously crafted by Provost in an attempt to promote an exciting new path for pan, one that many of the attendees had never seen before. "I wanted to advocate for and showcase the pan as a viable solo instrument to front a jazz quartet," Provost said. "I also REALLY wanted to reach other percussionists who aren't familiar with pan. I feel like each year at PASIC the 'pan people' show up and support the "pan events," whatever they may be. I really wanted to reach beyond that faithful crew." Several notable steelpan educators and players were present to attend Provost's clinic, including Cliff Alexis and Yuko Asada of Northern Illinois University, Tracy Thornton of Pan Rocks fame and Dave Longfellow of the Virginia Beach International Pan Fest, among others.
Perhaps the biggest surprise of the performance was when a special guest took the stage for the final piece. "The standout moment for me was having the legendary jazz drummer, Ralph Peterson, join us on the last tune," Provost said. "We hadn't rehearsed anything together so we played a jazz standard called 'Invitation,' and Ralph took us through a bunch of different styles and tempos. He plays with so much energy – its infectious!"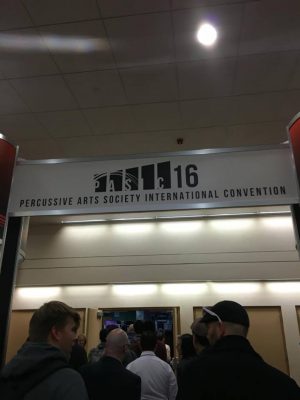 PASIC 2016 took place from November 9-12. Over 5,000 percussionists and educators from all over the world attended, with over 120 sessions and 100 exhibitors featured. "I attended a few other great seminars and evening concerts – one standout was Steve Shapiro's clinic on merging electronics and amplification with vibes/marimba – a topic I've been interested in applying to pan for a while now," Provost said. "I arrived on Thursday to check out the George Mason University Percussion Ensemble because they premiered a composition of mine for percussion quartet and steelpan soloist, entitled 'Second Wind.' It was the only other pan representation besides my clinic at the convention this year, although builder/tuner Kyle Dunleavy (who, along with Mallet Man, were official sponsors of our performance) did a banner display and attended our concert."
Being selected to perform was a big deal for Provost, considering the selection process is rigorous and competitive. "I was excited to be selected this year – I think a number of things contributed to it, not the least of which is my general career arc and growing level of visibility," Provost said. "For the last few years, PASIC has invited steelbands but not focused on soloists or small groups. I think it was just time for a scaled-down focus on the instrument in this setting."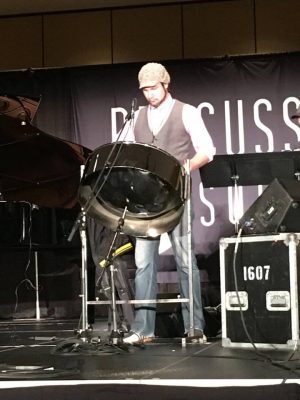 For those pannists interested in performing at a future PASIC, Provost has some helpful advice. "Apply early with a definite focus and an original idea. Be prepared to be flexible and work on fundraising and sponsorship very early and in novel ways," he said. "Pan will continue to be recognized at PASIC so long as people are innovating on the instrument. I think the days are gone that you could apply with a decent high school or college band playing rep that everyone's heard. There needs to be more focus on interesting and innovative new lit – solo, chamber, and steelband. This is already happening and we just need a few adventurers to take these works to PASIC."
The next PASIC will take place November 8 through 11, 2017. For more information, visit
www.pasic.org
.