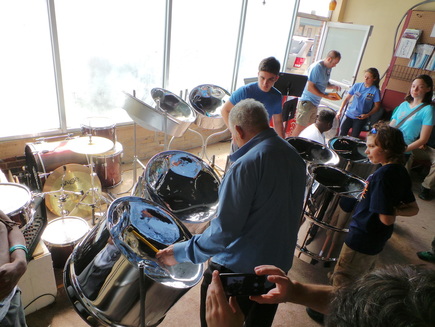 Written by Ted Goslin At the 2015 Mannette Festival of Steel, students and clinicians gathered to take part in a week of rehearsals, excursions and networking. In addition to learning about music in a hands-on setting from some of the top pan composers in the world (Ray Holman, Jeff Narell, Andy Narell), students also sat down for several lectures, provided by different festival attendees.
Lecturers for the event included nationally recognized pan educator Dr. Brandon Haskett, pannist and composer Andy Narell, pan builder and educator Emily Lemmerman, and educator/entrepreneur Marta Wetzel who spoke about her product, the Wetzel Pan Stand.
The stand was created in response to Wetzel's younger students having trouble keeping their collapsible stands from falling and smacking other drums during setup. Wetzel was inspired to start her business the same way she was inspired to start a steel band, because of her love for the instrument and appreciation for its chief inventor.
I first came to this workshop in the mid-80s. Think about how many lives Ellie's life has touched. Steelpan just makes your heart feel good; more than any other music," Wetzel said during her lecture. "I was originally a marching band director for grades five through 12. Then I got a job interview for Dayton public schools. I had seen a steel band at Disney World but knew nothing about them. During the interview, the principal asked me one of my main goals if I were hired. I said, 'I'd love to start a steel band but know nothing about them.' He asked me if I was willing to learn and I said I was. He said, 'that's what I wanted to hear,' and he hired me."
Wetzel's stands are used by prominent players and builders like Tracy Thornton and Glen Rowsey, and range in price between $145 and $435 for a set.
Providing educational writing tips was Emily Lemmerman, who discussed how to write for different levels of steel band players and specifics on how to make arrangements sound difficult but easy to teach.
I normally write pieces for four voices, but to add dimension, I'll add a double tenor part occasionally and put certain players on that," Lemmerman said. "It's important to repeat parts. If you're writing a tricky part, give them more than one chance at it. It cuts rehearsal time down on it."
The format of Lemmerman's seminar saw the construction of the piece on an overhead screen using Finale music writing software's free version, followed by its corresponding performance, which was repeated for each skill level.
Other lectures included Andy Narell discussing how to build one's musical vocabulary in order to improvise solos during performances, and a lecture by Brandon Haskett discussing steel band literature selection, among others.
Another highlight of the festival was a field trip to visit the Mannette Instruments workshop, located on the historic Scott's Run Road, a few miles from the Clarion Hotel. During the visit, attendees were taken through the shop, which highlighted a variety of instruments that Mannette's team is working on and he himself has made or designed.
Keith Moone, chief builder for the company, provided a mini tour of his workshop area to the group, showcasing what the pan building workshop had been working on through the week to that point.
In one room, several sets of drums are set up on display for anyone to play on, which was the case for several of the younger students of high school age. Mannette even joined in the festivities at one point, explaining how importance hard work is to becoming a great pan player.
To play these runs, you gotta develop the skill or else you're not going to play well," he explained while demonstrating on the instrument. Mannette continued to explain that playing and building take the same level of dedication. Becoming skilled in any endeavor takes two core ingredients.
A lot of people have come to me as students asking what it takes to tune the pans right and make them work. I always tell them, to make the pans the right way takes time and patience."
For information on the Mannette Festival of Steel and Mannette Instruments, visit www.mannetteinstruments.com.







































Ellie Mannette performs on his signature triple guitars for the young pan students.