Known as the largest trade show for musicians, music vendors and music educators in the world, the 2017 NAMM show hosted over 1,700 exhibitors and 6,000 brands for an international audience of nearly 100,000 people. Companies exhibiting included known brands like Remo, Vic Firth, Gibson and Yamaha, as well as plenty of growing brands like Innovative Percussion and Indigisounds.
As the actual presence of steelpan vendors like Panyard and Dave's Island Instruments has dwindled over the years, the presence of those looking to enhance their skills and abilities with new products in the steelpan world has not. Tracy Thornton, known for his national steelpan program, "Pan Rocks," is one of those people, also an attendee at this year's show.
"My goal coming here this year was to make a lot of connections. I've met a lot of people from the studio and sound industry that I've looked up to for a long time. You get to meet them. Everybody just wants to meet everyone here and make connections," Thornton said of the importance of attending the show. "I've learned over the years, if you want to do anything, you just have to be connected and make connections. You can do more in five minutes than you can do in 6 months working at home making phone calls."
For steelpan players, educators and world percussionists, there were many offerings at the show that could enhance their respective worlds greatly. Below are a few of the hottest products that could impact the steelpan world in the coming year: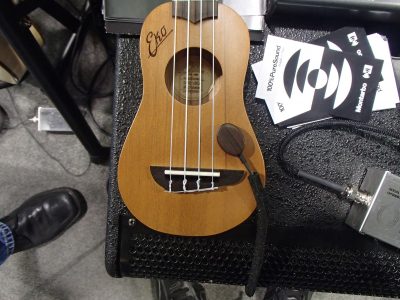 Heart Sound Acoustic Pick-up
Italian manufacturer, Heart Sound, has created a pick-up that can be attached to practically any instrument, including steelpan. While it is untested on steelpan, its demonstration on different instruments, including Ukulele and acoustic guitar, showed promise. One of its chief features is its noise cancellation from its surrounding environment. This feature allows it to pick up only the sound of the instrument it's attached to and block all other surrounding noise. The product has not yet hit the market but is on its way to release later this year.
Indigisounds Laventille Rhythm Section Samples
The steelpan sampling software has released a new product for fans of Trinidadian instruments and rhythms. The company has released its Laventille Rhythm Section Soca Starter Pack, which includes all percussion instruments found in a steelband, specifically those authentic to the birthplace of the steelpan, Laventille, Trinidad. Different instruments can be isolated individually, or added to the mix of any recording, including the accurately captured sounds of the steelpan samples already offered by the company.
Alfred Music Arrangements For Steelband
Sheet music manufacturer, Alfred Music, has released a line of steelpan arrangements of known pop tunes and other world music songs for educators to use in the growing market of school steelbands. Arrangements include Bahia Street Beat by Julie Hill and Cheeseburger in Paradise by Jimmy Buffett, among others.
Enduro Cases by Humes and Berg
The popular Enduro cases offer both percussionists and steelpan players alike quality cases for transporting instruments. Cases range in size, but include various sizes for different length steelpan skirts, including those for tenor, doubles and guitars.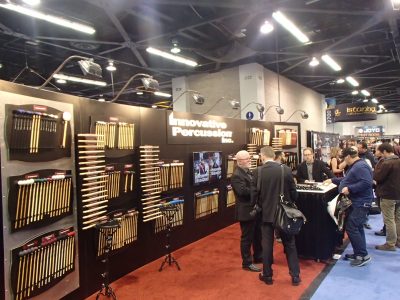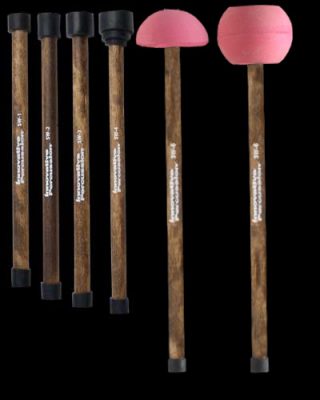 Innovative Percussion Steelpan Mallets
With many companies on the market (like Mallet Man) and other manufacturers knocking on the door (Vic Firth has shown interest in releasing its own line), Innovative Percussion has remained competitive by releasing its double-sided steelpan mallets for every instrument in the steel orchestra family. Mallets
come in aluminum and wood, with tenor, double tenor, double second, guitar/cello, tenor bass and bass mallets offered.
The next NAMM Show will run from January 25 thru the 28, 2018.