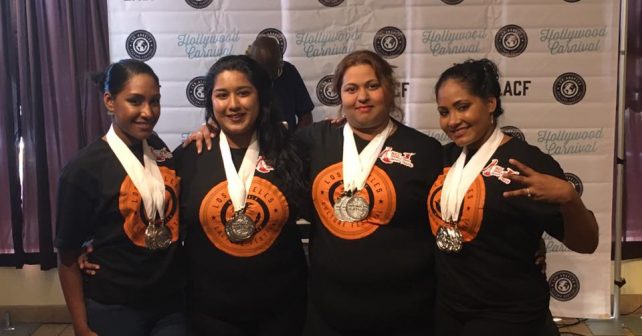 For the first time in the history of the art form, an all-female Tassa drumming group has not only formed, but created a name for itself in a huge way. The NGC Trinidad and Tobago Sweet Tassa group took part in the World Championships of Performing Arts (WCOPA) at the Long Beach Performing Arts Center on July 15, 2016 and won Silver medals in three categories: contemporary, open and instrumental. 62 groups competed this year, each allowed only one minute of performance time.
"The competition is great for the world to recognize musicians and the art form differently. It's done for sports but not so much for performing arts," Lenny Kumar, founder of the group, said at a recent performance at Callaloo Caribbean Kitchen in Long Beach to promote the group's achievements. "It's the first all female Tassa group and the fifth-generation of Tassa music in my family. I've been doing it since I was five years old."
Kumar is the father of core member Lennita Kumar, who's been with the group since it's inception in 2004. Lenny Kumar, a highly respected virtuoso Tassa drummer in Trinidad and Tobago, started the group in response to the art form's exclusion of women throughout its cultural history.
"In 2004, my two girls wanted me to teach them the Tassa but I would say no because it was only considered to be only for men. I decided to teach them and see what they could do," Kumar said. "I met with a guy and planned a trip to India. We started teaching them in an Indian temple and the group developed from there. In 2010, I participated and won 12 gold medals doing same Tassa music at the WCOPA. I took part in the same category as the girls did this year."
The band consists of four players with instruments that consists of a large bass drum called the dhol, two snare-like tassa drums called the cutter and foulay, and one pair of cymbals called the jhal. The group has performed all over the world to spread the message that musicianship, discipline and pride can result in something truly special.