If one thing is certain in life, it's that everything is relative. No matter where you are born, you can find something to relate to in almost any country or city on Earth. Aside from anyone's personal daily life experiences, this theme found further proof during a music tour conducted by the Jonathan Scales Fourchestra. But this was no ordinary tour, given it's locations and initial circumstances.
In March of 2016, world-renowned pannist Jonathan Scales, who is known for his unique compositions and playing style, had the opportunity to audition for a program called American Music Abroad, which is run by the U.S. Department of State. Being the third time Scales had applied for the program, he didn't expect the outcome to be any different but sure enough, it was, and he landed the gig, which required four weeks of touring throughout Taiwan, China and Indonesia. The trip took place from Feb. 5 to March 10, 2017 and included Jay White on bass and Xavier Breaker on drums, who were the musicians that helped Scales land the gig during the audition.
Planning for the trip wasn't hard for Scales and his band, aside from one little hiccup. "We actually didn't rehearse, interestingly enough! It had been four months since that particular line-up played together, before the downbeat of the first show in Taipei," Scales said. "Musically, I'd say I've been touring so much over the past 10 years that I didn't really have to plan for the trip in that way. I just make sure I keep great musicians around me, who can uphold the music. I've been touring for a while, am accustomed to it and enjoy it, so I don't feel like I had to prepare much for it mentally."
One thing a musician can never prepare for is how their music impacts others, especially other musicians. During the tour, Scales repeatedly posted on his Facebook page about experiences he had performing with local musicians. Some of those musicians included a pair of Taiwanese musicians from the band, A Root, performing Taiwanese folk music, and indigenous  elder singers of the Amis Tribe in Taiwan.
"There was a saxophone player in Taiwan who knew my tune 'Desert.' He had learned it by ear and played it with us during a workshop. I invited him to play on the show with us that night," Scales said. "It was special for me being on the other side of the world and hearing this guy play music that I wrote back in high school."
There were several personal moments for Scales during the tour as well, which he made note of in real time on social media. "We performed at a Muslim school in Indonesia today. It was amazing to feel the kid's reactions," Scales said in a Facebook post. "This Muslim school turned into a rock show while we were there and I'm pretty sure we finished in time for their Friday afternoon prayer. We are all the same and music definitely has a power that not even I really understand. – I think this school wants to start a little steel band now!"
The performances during the tour varied between playing for something as low-key as a subway station entrance, to playing for thousands of people who came out solely to hear the Fourchestra perform. But for Scales, the goal of doing a tour like this is less about numbers and more about substance.
"Any tour to me is about building your career, little by little…connecting with new people and making new fans, whether it's touring in the States or Europe or Asia or the Caribbean or wherever," he said. "I feel that's a pretty straight-forward, basic goal and hard not to achieve, if you look at it in that basic way."
Scales added that the biggest takeaway from the tour was the re-affirmation that he's "on the right path and to just keep working 'nose to the grindstone' as the idiom goes." He plans to return to Asia in the next few years on a future tour with the hope that it will be as impactful as it was this time around. With plenty of high profile performances lined up this year, including a trip to Mauritania in Africa and a fall tour to Australia, one might think Scales could get a big head, but such is not the case for the humble pannist.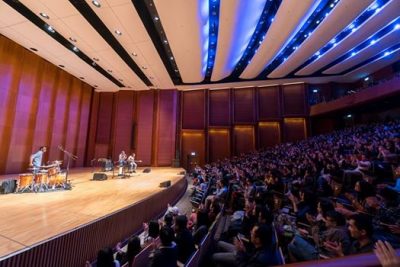 "I'm honored that it's something that I've been able to do and always let people know about the roots in Trinidad & Tobago when I'm doing a workshop or clinic. It's not my direct intention to spread awareness of pan, but I realized and accept that it's part of the journey," he said. "I always feel that I'm here as a composer, first and foremost. So when people are exposed to something new because of me, that's an extra bonus!"
Find out more about the group at jon