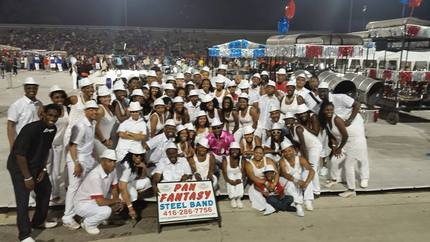 Winning a championship is considered to be the pinnacle of accomplishments in any medium. For athletes, it means the culmination of months of training, sweat, injuries and personal sacrifices. For musicians, the same can be said. But what's it called when you win five times in a row? There is a word to describe that: dynasty.
At this year's Pan Alive steelband festival in Toronto, Ontario, Canada, Pan Fantasy Steel Orchestra made history by becoming a five-time winner of the competition. Given the competition with nine other bands competing, the band had stiff competition from both top players and arrangers.
"Pan Alive 2016 was amazing. The band was very excited to participate this year knowing that we were going into possibly a five-pete," said Band Leader Wendy Jones. "The band practiced really hard. Most of the time what happens is the long nights pay off when the band comes first. Getting people to arrive on time is hard because getting schedules to align is difficult. They were all happy to see their hard work paid off."
After  30 years of existence, Pan Fantasy has come a long way from its humble beginnings. Starting with a core of just 10 founding members, and ballooning to 86 for the Pan Alive competition, Jones has seen how things have changed in that time, being one of five of the band's founding members still with the group. Today, the group operates year-round, thanks to local schools promoting pan and producing skilled pannists who play with the band throughout the year.
"We have between 15 to 30 members that play throughout the year. We do events and different shows during winter and summer months. We have a core group of pan players, kids that are either taught at school bands in Toronto or around Toronto," Jones said. "You will get members who will come out to play with different steel orchestras in the summer time. You will get members who have either learned with us or with another group. It's a seasonal thing that they do sometimes."
This year's song, "Unforgettable," sung by Kerwin Du Bois and written by A. St. Louis, K. Hart, and K. Phillips, was arranged by Al "Allos" Foster, a long-time member of Pan Fantasy who began with the group as a teenager.
"Over the years he's evolved into a great musician where now he is the prominent arranger of the band. He started when he was 15," Jones recalled. "The years when I taught him bass, it was interesting and now he's teaching me. Because of that, his skills are far beyond his age I would say. He's one of the top young musicians in Toronto who is doing really great music. He looks at the song and has the ability to arrange it a certain way that grabs attention. That's the first thing you look for in an arranger."
The song was chosen due to its theme of giving thanks, which the band used to give thanks for 30 years of unforgettable music, according to Jones. Part of the thanks is directed at the band's older members, with its oldest member at age 71. The youngest player is age 12, in contrast.
While the band has seen great success over the years, that's not to say it hasn't seen it's fair share of struggle. The history of steel bands in Toronto is rife with struggle, mainly with the difficulty of maintaining year-round interest and enough revenue to house instruments and a rehearsal space for the band.
"In Toronto, not many bands have a home. Maybe one or two have a home. Where your band will rehearse and leave their equipment is always a struggle," Jones said. "After the Pan Alive competition, many bands have to put their pans back in storage. You have to find a place to store your racks from the festival. If not, the city comes and takes them as scrap because they are metal. We've had that happen to us. They're not cheap."
In addition to storage costs for instruments and competition racks, there is also a maintenance cost for the equipment, with tuners needed periodically to blend the sound of the instruments. Pan Fantasy is not alone in his year-round challenges, as the history of pan in the area has seen many changes to adapt to shifting priorities.
"Steelbands in Toronto have gravitated and evolved quite a lot. Earl LaPierre Sr. was one of the arrangers of Afro Pan, one of the older bands in Toronto along with Silhouettes Steel Orchestra and Guiness Cavaliers, to name a few," Jones said. "A lot are still functioning trying to carry the torch for Toronto. There are at least 20 school bands right now. There are also quite a few community bands. The interest of the instrument has contributed to the growth. A lot of people gravitate to learning it."
To continue funding the band, Jones has sought both private funding and corporate sponsorship. However, due to the high cost of storage, the band receives city subsidizing thanks to teaming with other community groups, including a local theater company, to store instruments and rehearse.
"Pans go in storage during the winter. We have a building that Pan Fantasy uses with five theater arts groups in North York. It's a warehouse building. We've been together for 15-20 years now," Jones said. "Any time we move, that group has been with us. In terms of funding, we've shared a rental space for the last couple of years. It's a model that works. I'd like to see that same model in every pan community. I'd like to see bands have a home."
Jones also does PR for the group, reaching out to different organizations, doing speaking engagements, using social media and putting out a lot of word-of-mouth to promote the band. "We have quite a few things because we are year-round, we can advertise and our events are happening. Because we are out a lot, people see us and book us for events," Jones added.
Despite its challenges, Jones believes the band is doing well and is excited for both its future and the future of pan in the region. Given its community roots, the band has become a breeding ground for much more than just steelpan music, but arts of different kinds.
"It takes discipline to stand up and learn the music. It takes a lot of time management to balance work and music. These kids aren't just playing pan. They are doing work, also. We also have a drum group within our group; dancers that are part of the band have formed their own groups now. There's a lot of branching out from our band. That's the group we see and that's excellent. We foster leadership to help them plan and do their own things," Jones said. "Pan is in a good place in Toronto. We have evolved. Because of that, with several bands, I'd like to see them at a different level. If we can get past our different barriers we can have someone organize events for the steelband year round. That's been a goal to have events that give other bands an opportunity to participate. I'd love to see more participation, more kids involved, and more people loving our culture, the culture of pan."