There are many reasons people become educators. Some do it for the money (when it's available). Some are drawn to the art of standing before a crowd of students to pontificate their own ideals on a captive audience. But many do it for more noble reasons. Because they believe in the power of education to change society for the better. Such was the case when Harvey Price, professional pannist and associate professor of percussion at the University of Delaware, decided to start youth steelbands for Jewish and Arabic students in Israel.
"The idea of a Jewish/Arab youth steel band originated in 2002 when I saw an RFP (Request For Proposal) from the U.S. State Department calling for grants for conflict resolution through the arts in predominantly Muslim countries," Price said. "I thought then, as now, that the steel drum, an instrument born of conflict in Trinidad more than 60 years ago, fit the description perfectly. The traditional music of the steel band is value neutral, neither Jewish nor Arabic, Christian or Muslim, although music from all of these cultures can be performed on pan." 
To grab the attention of the grant overseers, Price submitted a proposal calling for the formation of an Arab/Jewish youth group to meet on a regular basis and learn about music theory, composition, rhythm, and improvisation while playing together in a steel band. The curriculum used would be one Price developed and has been using for the past 20 years at the University of Delaware and in various elementary, junior high, and high schools throughout the State.
"The grant would be seed to purchase the instruments, ship them to Israel, and pay for two teachers, one Arab and one Jewish, to come to the U.S. for teacher training education on how to develop and manage a steelband," Price added. "Unfortunately, the State Department did not see the merits of the grant and did not fund his project."
Then in 2007, acting on a request from the Israeli Social Service network Keren Karen, Price formed several youth steel bands in Israel made up primarily of Ethiopian youths. The funding for these bands lasted about five years.
"My original idea was revived in the Spring of 2011 when clergy from Delaware Churches for Middle East Peace and four rabbis representing Orthodox, Reform, Conservative and Reconstructionist congregations in Northern Delaware had lunch together in Wilmington to exchange views regarding the Israeli/Palestinian conflict," Price said. "By the end of meeting they began to explore ideas on how they might collaborate locally to promote peace in their shared Holy Land. Subsequently, participants in that meeting became aware, through a mutual friend, of my earlier efforts to create an Arab/Jewish youth steelband and enthusiastically endorsed that vision as an exciting and doable way to promote peace among Israeli Arab and Jewish youth. An ad hoc interfaith working group emerged and began to seek ways to implement the project."
That group, known as the Peace Drums Steering Committee, identified two schools, one Arab and one Jewish, based in the Galilee region of Northern Israel. Price visited the schools, met with the administrators and invited them to participate in the project. The steering committee then set about to raise about $100,000 to purchase two sets of ten piece steelbands, including stands, sticks and hard cases, pack them in the U.S. and put them on a plane to Israel from Philadelphia. In addition, two teachers were identified to teach each band. Price traveled to Israel several times over the next few years to work with both the teachers and students.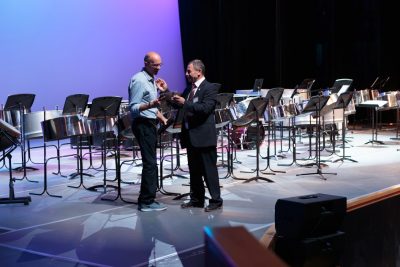 Students chosen to participate for the bands were a mixture of those with and without musical backgrounds.
The schools identified the students that they wanted to see be in the bands. Some were music students, some not.  Each school rehearses once a week then both bands combine once a month to rehearse as a complete band.
Repertoire includes Soca, Calypso, Arabic, Jewish and American Pop music, among others. All music is chosen by the teachers, not Price.
"The band plays a wide variety of concerts. In April of 2016, they were in the U.S. for a 10-day-tour and played six concerts. Two in Delaware, two in Philadelphia, and two in New York," Price said. "They will be performing with the Haifa Symphony Orchestra in January of 2017 and will be looking to do a European tour in early June of 2017. They have received a lot attention, especially during their most recent U.S. tour. Every major news outlet in the Philadelphia area did a short story about them."
Although Price is the musical director, he relies on the music teachers to teach and report the progress of the band to him. "Obviously I cannot do a regular rehearsal being 5000 miles away. However, several times a year I travel to Israel to listen to and work with the kids," Price added.
Since the schools are not located in a war zone, there has been no risk of violence for the band. But according to Price, the goal to promote peace in Israel has been a success in many ways.
"Absolutely my goal of promoting peace succeeded not only with the students in the band, but equally important, the parents of the students. During the tour, the Arab parents and the Jewish parents each expressed how happy they were to get to know the other," Price said. "This is a peace making project at the grass roots level. There are already other communities in Israel that want a steelband for their Arab and Jewish neighbors. The trick is to raise the funds to purchase and get the instruments over there."