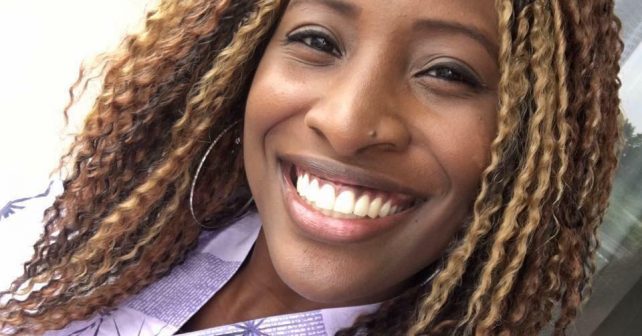 Everyone remembers their first time. Whether that be their first kiss, their first trip to another country or their first live concert experience. For pannist and arranger, Mia Gormandy, it would be hard to forget that 2016 marked her first time arranging for Trinidad & Tobago Panorama in the large band category. Especially since it also marks the beginning of her career as a professional steelband arranger on a stage as well-known as any she's been a part of.
"I have been playing pan for 23 years now. I started playing pan at age 5. My parents bought a pan for my older brother so that he can learn and play. However, he was not interested in learning. Instead, I was reaching over my head trying to play the instrument. Therefore, what started off as pan lessons for my brother turned into pan lessons for me," Gormandy said. "At age 5, I am not sure what drew me to it, but something did. I started playing with Trinidad All Stars when I was 9 years old. I first joined their stage side then I played my first Panorama with them the following year at age 10. My parents were always big fans of Trinidad All Stars, which is why they took me there."
A graduate of Northern Illinois University, Gormandy earned her arranging spurs with the NIU steelband under the tutelage of Liam Teague and Cliff Alexis. Her tenure with the band, and her later work with other bands, allowed her to prepare for her eventual move into Panorama arranging.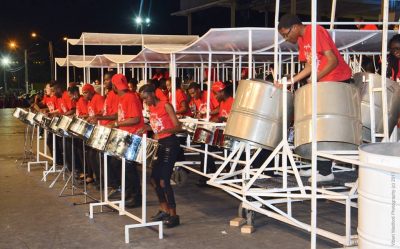 "I arranged for quite some time before I became birdsong's arranger. When I was a student at Northern Illinois University (NIU), I arranged music for the NIU Steelband and for the All-University Steelband, which I co-directed for two years. I then became the director for Mas N Steel at Florida State University. I arranged for them for four years," Gormandy said. "I also had the opportunity to arrange and compose for other musical ensembles including Omnimusica at Florida State University. I arranged for Junior Panorama in 2014 for Symphony of Saints, which earned us third place. I am not sure how many arrangements I have completed for steelband, but "Pan Kingdom" was my first arrangement intended for the large band category for Panorama."
As word spread in Trinidad of Gormandy's abilities, she was contacted in early 2016 by birdsong captain, Marvin Walker, who voiced an interest in having her as a potential candidate to arrange for birdsong in 2017. With the board ready to select a new arranger, Gormandy quickly became a frontrunner, despite having strong competition from other noted arrangers like Andre White and Andy Narell, who had just completed his fourth year as arranger for the band.
"I was pleasantly surprised and showed my interest. I was aware that they considered other arrangers as well. However, a few weeks later, I was appointed Panorama arranger," Gomrandy said. "When we discussed options for our tune of choice, we knew we wanted a 2017 piece that would represent the band well. I worked closely with Mark Loquan and recorded the steelpan part for 'Pan Kingdom,' which was not only released for 2017, but was also composed for the Virtual Steelband (www.virtualsteelband.com), another project I am currently involved with."
According to Gormandy, she suggested the piece because it gave her a lot to work with as an arranger and it fit the international theme that birdsong continues to portray every year through its international program. "Birdsong's management loved it so we decided on 'Pan Kingdom,'" she added.
"I think it's hard for me to describe my musical style. I try my best to capture the essence of the music. If a listener is listening to my Panorama arrangement, but they started listening four minutes in, I would want them to know what piece they were listening to. Growing up I have mostly been influenced by Leon Smooth Edwards within the realm of Panorama. After playing for Trinidad All-Stars for many years, I believe All-Stars' style will forever be ingrained in me," Gormandy said. "One of my biggest influences has been Liam Teague. He has blown me away continuously over the years and did so again this year. His ingenuity is captivating and he continues to add new creative ideas while keeping his original style. This is very impressive. I always believe that music is for the people (including the musician) so it is important to me to find the right balance between enjoyment and musical creativity."
To tackle the difficult task of arranging for the large band category, Gormandy knew she would have quite the learning curve ahead of her. Going from Panorama player to arranger was one element that she wasn't prepared for, but managed to adapt as rehearsals progressed.
"My strategy was to choose a 'good' piece that I can work with. Teaching the music to the band was actually quite easy since many of the players read music. I simply sent the score to the management and when I got to rehearsal the musicians had already learnt what I sent earlier in the day," Gormandy said. "I simply had to ensure they were playing the correct notes and rhythms, and then I focused on teaching the sections with less readers. The process was an intricate one, but I think we worked together as a band to overcome the challenges presented to us in order to produce the best product we could."
Each round also presented challenges. For preliminaries, there was a serious lack of players, which the band solved by encouraging as many local players as possible through word-of-mouth.
"In the large band category, performing with a full band of 100 performers is ideal. I knew that birdsong's numbers in the past were on the lower end, so I knew this would be a challenge from the beginning. We did our best to encourage players to join us," Gormandy said. "Another challenge was the relocation of the panyard. We initially started rehearsing on UWI's campus and then had to move to the new panyard. This presented some challenges as we had to readjust to a new environment. For the preliminary round specifically, we had to get the new panyard ready for the judging night. This meant readjusting the band and finding the best sound to make use of the new acoustics, which we were unaccustomed to."
For the semifinal round of the competition, more players joined the band but had to learn the music from the beginning, which slowed down the process of fine-tuning the piece. Gormandy was happy to receive the added players, regardless of the extra work involved.
After experiencing it first hand as both a popular front-line player and arranger, Gormandy has formed an opinion about the recent struggles the event has faced, which will likely have an impact moving forward.
"Panorama has become a significant part of the carnival season here in Trinidad and this year showcased immense creativity and a high level of overall performance. So, there are positives to the competition. However, I still think that Panorama needs a complete makeover," she said. "Firstly, the competition needs a proper organization that can not only run the competition in a fair manner, but can also make the competition relevant to the world we live in. Accommodations in judging should be made to reward musical creativity, difficulty in music, and other important elements of music that have not been previously accounted for. We should be promoting creativity and not hindering the process."
The experience as a whole proved to be worth the struggle for Gormandy, who admitted that she enjoyed it all, taking the good with the bad in stride.
"Even though there were many challenges, some big and some small, I enjoyed the entire process. The management were hard working and the players were great to work with," she said. "I was most impressed, however, by their ability to read music. I never thought that I'd be arranging for Panorama and handing out scores. It was truly amazing to see."
Unsure if she'll be returning for 2018, Gormandy hopes to get another chance, having learned a lot about the process after her first go around.
"After working with them this year, I have a better sense of what to expect, the ability of the players, the instrumentation of the band, and how their system works. So, I will be better prepared for next year," she said. "I never really saw myself as a Panorama arranger in previous years. I always enjoyed simply learning the music and executing it for the competition. However, I am excited that I am a Panorama arranger and look forward to the possibilities that lie ahead."