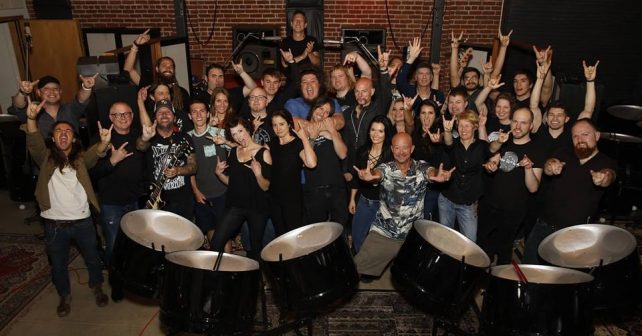 Tracy Thornton has been pushing his vision of a large steelband playing rock tunes for over 20 years. Now his dream is becoming a reality, with some of the biggest names in rock lending their names to the cause.
In August of 1988, soon-to-be world-famous rock band Jane's Addiction released its debut album, "Nothing's Shocking," which included a track called, "Jane Says." The song would feature drummer Stephen Perkins performing the steelpan, which would stand out as a signature element for the tune. While the song grabbed the attention of millions of listeners around the world for its catchy hook, there was one person listening who would take even more from the track: soon-to-be world-renowned steelpan rock star, Tracy Thornton.
Inspired by what he heard, Thornton would begin a 29-year journey that would culminate with him playing several shows and finally recording with his hero, Perkins, on what he hoped would be the beginning of the rest of his life. On May 16, 2017, Thornton would launch Pan Rocks Project L.A. and be joined by Perkins (on drums) and fellow rock legends Billy Sheehan of Mr. Big and the David Lee Roth band (on bass), Tracii Guns from L.A. Guns (on guitar), and producer Matt Starr, drummer for Mr. Big, running the session. Recording their parts later would be Bruce Kulick (Kiss/Grand Funk Railroad) and America's Got Talent sensations Emil & Dariel on cellos for Kashmir and Carol of the Bells.
"It's something I've always wanted to do. When I came in for NAMM in January I had a meeting with Mark Schulman, who I met in West Hollywood just before PASIC. Matt Starr was the guy before me. We were in a cafe and he was meeting with Mark. I was thinking about the future of how Pan Rocks was. Matt just kind of hung out during my meeting with Mark. I gave him my cell phone number and gave him videos of Pan Rocks at PASIC and other things," Thornton said. "I had no idea the gig was on the horizon. I got the proposal the morning after we performed the Whisky A Go Go. The first thing Matt said was 'I hear Christmas music.' My whole career got started with Christmas music. The first thing he said was having Carol of the Bells from Transiberian Orchestra. We see all kinds of different show possibilities for Pan Rocks."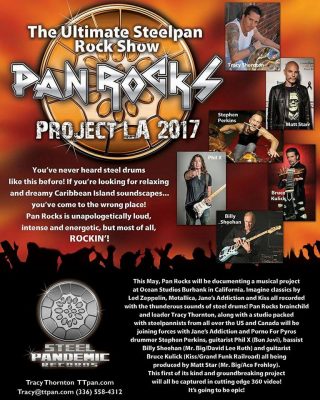 Rock Stars, Assemble
They say that success in any field is all about who you know. In music, relationships are built-in an instant based on the excitement of the next project. For over 20 years, Tracy Thornton has been seeking to establish a relationship with his idol, Stephen Perkins, the inspiration for his seeking out and diving head first into the world of the steelpan and becoming the global sensation he is today.
The relationship with Perkins was born through networking and through Thornton's continuous pursuit of recognition for his most successful music project to date, "Pan Rocks." The idea formed from Thornton's experience performing for the Trinidad Panorama competition, where 120-piece steel bands compete with each other by performing epic, 10-minute pieces arranged from popular songs from the year. Thornton, being a former heavy metal drummer, saw an opportunity to make the instrument his own by combining the concept of having a massive steelband performing rock tunes instead, which both pays homage to the home of the instrument and creates something new out of it.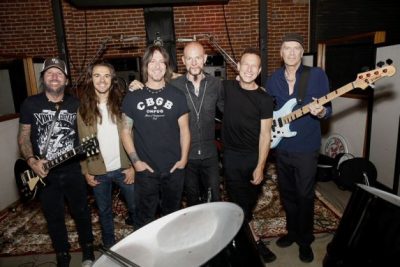 At PASIC (the Percussive Arts Society International Convention) 2015, Thornton assembled a group of over 80 pannists on stage to perform several rock arrangements as part of his Pan Rocks project. The performance grabbed the attention of popular rock drummer, Mark Schulman, who's played with Pink, Billy Idol, Foreigner and Beyoncé, among others. During the NAMM Show in January 2017, Schulman met Thornton in Anaheim, Calif. To discuss ideas for progressing his program while Matt Starr listened in, having been in a meeting with Schulman just before. Starr immediately picked up on the significance of the project and offered his services to Thornton as producer of the album.
Starr would go on to be instrumental in helping Thornton gain momentum for the show in a variety of ways, including setting up a performance for a small Pan Rocks group at the Whisky A Go Go in Hollywood, Calif. In March of 2017 as a preliminary way to get other musicians on board. The performance included a variety of well-known rock musicians, including Perkins on drums during the Jane's Addiction staple, "Been Caught Stealing.'" Once the video of that performance went out to online, the team had something to work with.
Originally given a list of several different guitarists and bass players, Thornton had to make a decision on who he wanted involved with the project. He also needed to find a suitable venue as Dave Grohl's studio, Studio 606, the original venue chosen, ended up being unavailable on the dates needed for rehearsal and recording. Starr suggested Ocean Studios in Burbank, Calif. and the dates lined up. The next step was locking down the players, which proved tricky for both the rockers and pannists alike.
"We got Tracii Guns who I was psyched about. He got in on it within a week. I told Perkins about it and he was in from the very beginning. My whole history with Jane's addiction, he's the whole reason why I play pan. If not for him, I would probably be a janitor or a drummer in a cover band somewhere," Thornton said. "Matt was great to work with. If I were to call or text him he was right there. I believe Matt put his heart and energy into it. It was a really good experience for me working with someone who I trust."
Wanting to capture the performance from all angles, Thornton got in touch with his friend and 360 video pioneer, Dave Faires. Faires runs a studio that specializes in video production and agreed to film the entire project using 360 4K Ultra cameras. "Guys came out from Las Vegas to do all the filming. Once the project got rolling, I didn't have to make anything happen, I just let it happen. Those guys did an amazing job," Thornton said.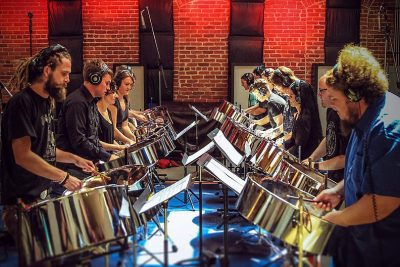 Pan Players Unite
With the rock stars, recording studio and videographers in place, Thornton's final step was securing all of his pannists to fill out the orchestra. But thanks to his years of dedication to the steelpan art form and countless performances with different steel bands throughout North America, Thornton had an easier time recruiting players than one might expect. Players from all walks of life made themselves available, leaping at the chance to be part of such an amazing opportunity, regardless of cost.
"It blows me away that I have this cool relationship with players. When I call, they're there. Maybe two or three people had to think about it for a second. Once we got there I knew it was going to be amazing but it surpassed my wildest expectations," Thornton said. "Greg 'Sparky' Sparks was in Bakersfield, California. I was at his school two weeks before. He had all Alan Coyle pans, the pan builder who endorses me. He brought pans from his school, Wasco High School. I had him bring basses, guitars and double seconds. His wife, Candi Sparks, is a professional photographer and took a lot of pictures of the session.That goes to show how our community goes."
With help from Sparks and a host of other players from all around the country, including some from Canada, Thornton was originally hoping to get 50 players, but Matt Starr recommended topping out at 25 due to space issues. Once the number was settled, Thornton went about recruiting his players and making sure they could all make the trip affordably, since none of the players were paid for their time. He was able to arrange a local hotel deal, within walking distance from the studio, but little else, which didn't phase his players one bit. Clearly, being the pied piper of pan has its benefits. Thornton couldn't be more elated.
"I just wanted great vibes, great people. Everyone was amazing and could nail everything. Especially for the readers to change things on the fly," Thornton said, referring to the band having to alter chords and notes during the recording process. "We were just as professional as Billy and Tracii and we had to work as a 25-piece organism. You just can't nail something like this without a great attitude. There are so many things about this experience that just blew me away."
Energy emanated on both sides thanks to how strong Thornton have grown his relationships with players over the years. One example is long-time friend and steelpan builder, Glenn Rowsey, who drove his van and quadraphonic steelpans across the country from Morgantown, W. Va. to take part in the project.
"I met Tracy around 1995 at an Ellie Mannette workshop. At that point, during the Mannette workshops, I had a construction clinic on the backlot teaching guys how to build," Rowsey explained. "Tracy radiates this energy and drive. Any time I think about him I feel lazy. To be so committed to his whole thing for so long is why he's able to inspire people. I hope that this project brings more gigs in front of stadium-sized crowds and helps pan find an entirely different audience."
Bryan Garbe, drummer of the up-and-coming pop group Oak & Ash, has known Thornton for around 10 years, having met him while playing in a steel band at the Jim Royle Drum Studio in Bridgeport, Conn. "We were playing some of Tracy's tunes. Then he came in and worked with our steel band. He was a big inspiration to us all because he has a different approach to steelpan. Learning standard steelpan songs for a band, then learning Dain Brammage and all of his songs, it was awesome. Tracy kept coming back over the years, then he took us to Trinidad. I really got to be good friends with Tracy during that trip. Then I got really into pan."
Aside from the loyalty to Thornton, the players came out to promote the instrument and push it in a new direction as is known to the public at large. Tyler Swick has enjoyed notoriety as one of the stars of a recent LG commercial where he is featured playing pan as part of Joseph Gordon Levitt's HitRecord-style concept. Swick feels there's even more possibility once this project is seen and heard by the masses, given its unique perspective.
"When I first heard of Pan Rocks, I was watching this from the perspective of my teachers who were saying 'This is the wrong way to play this,'" Swick said. "In the Las Vegas area, some of the band directors, myself included, decided to do what we could. We had him out. If the kids are excited, I'm excited. Here we are playing 40-year-old music and the kids are going nuts. If Tracy's vision is to take this large scale and have this either be a group that's well known or CD that's well known, it would do so much for the music that we're playing. Here we are, pan players, we're not supposed to head bang, not supposed to have these American traits. We're supposed to be respecting Trinidad at all times, yet it doesn't seem disrespectful, it doesn't seem out of place. We're adapting the two concepts."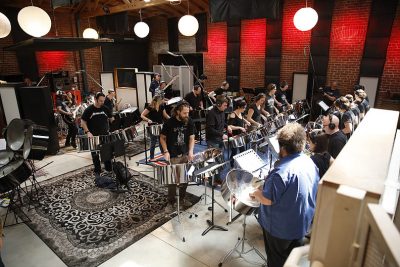 Show Time
Once rehearsal day arrived, the excitement was palpable. Players had arrived from all over North America to take part in a once-in-a-lifetime opportunity. Whether they were as local as Long Beach or coming from as far as Canada or West Virginia, there was seemingly no obstacle too large to bring this group of players together to celebrate and promote their way of life.
"For all of you guys to donate your time and your talent for this, it speaks volumes to what this is," Starr said at the conclusion of the preliminary rehearsal at the studio. "Once I understood what Tracy's been doing and his bigger vision for this thing, I thought, 'We have to do this, we have to make it happen,' because there's nothing like this. There are so many possibilities. I'm really honored to be part of this with you guys."
The next day, as all players began arriving, it became clear that something was missing. Due to a miscalculation on the number of players that would be performing, the band was missing one set of triple guitars. To help clear up the issue, Drew Holt, who run a steelband program at Cabrillo High School in Long Beach, Calif., offered to loan a set of triples to the band, free of charge. Although they were a slightly different layout than the player was used to, they still did the trick after a short calibration period.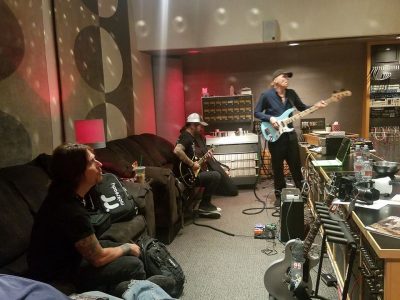 Once the drums were in place, and the players were ready with sticks in hand, the grueling recording process began. The bulk of the day was dedicated to filming the performance of the full band, which included Billy Sheehan on bass, Stephen Perkins on Drums and Tracii Guns on guitar. With each performance was a recording that featured the band being used as a scratch track to allow the rock stars to record their parts separately after each song was played. The songs recorded included "Kashimir" by Led Zeppelin, "Been Caught Stealing'" by Jane's Addiction, "Detroit Rock City" by KISS, which would later feature KISS band member Bruce Kulick on guitar, and Tracy Thornton's own composition, "Dain Brammage."
Due to the time-consuming nature of this process, the steelband was relegated to the waiting area of the studio to hang out and record video interviews individually with the camera crew while the guitarists worked in the control room. This presented the added challenge of keeping the energy of the players up so that they could perform with excitement both for the video and audio parts of the session. Luckily, the excitement of the project was enough to keep spirits up. They were so high that it became a challenge to quiet the group from playing between takes. For that, producer Matt Starr had a secret weapon.
"The biggest challenge I had was getting everybody to stop playing while I was trying to talk! That is why I got a referee whistle on the first day," Starr said. "I realized I needed to get everybody's attention and when you have over 30 people in a room that can be a challenge. I tried not to abuse my power but it was pretty fun to blow that whistle and have everybody stop immediately what they were doing."
After all songs was recorded by the guitarists, the steelband returned to the room to knock out their takes. Starr's producer duties required him to pay close attention to how each song was arranged, making sure it was correct per the original version of the song. Although most of the arrangements were both written and played to perfection, occasionally, Starr had the band change a note or phrase in certain songs, which required them to pay close attention to the change requests and make the change instantly.
"I believe Tracy had performed most of the songs before so he had already had them put together. Some adjustments were made at the session by me in the interest of filling out the sound or making it more powerful," Starr added. "The pan drums can sound very happy but they can also sound very sinister. I wanted to focus more on the sinister side because I think that is an aspect to this instrument that most people are not familiar with."
In total, the recording process took over 14 hours from start to finish, not including the previous night's rehearsal. The next step required getting all players who weren't there to add their parts to the recordings. One of those players was Bruce Kulick, who is known for having played with KISS and Grand Funk Railroad.
"I was somewhat skeptical at first. But now, I will admit, I'm impressed and proud to be a part of it. I love when musical instruments interpret styles of music not usually performed on that instrument. So steel drums playing rock sounds unique and fun," Kulick said. "It's fun to mix up musical genres and this experience did. Besides, I can brag I performed with a large steel drum band!"
Rolling Ahead
Seeing that the future is uncertain for both Pan Rocks and steelpan in general, the excitement of the unknown is part of what made both the rock stars and steelpannists sign up for this rare opportunity. Regardless of the what happens next, each member of the band got something different out of the experience.
"I'd never been in a studio with either Billy Sheehan or Tracii Guns but had admired them from afar. My favorite moment was playing "Kashmir" with Billy and Tracy, then having the pan band join forces and hearing that come alive," Perkins said. "When you play someone else's tunes you try to play like that drummer, but leave your own mark on it. I try to increase the emotional push of a song with my personality. That's a problem with all of the technology today; they want to take all the personality out. That's what's great about this session, they want to capture the band and hear the guy's fingers on their instruments. It's not a perfect game, it's music."
The band prepares for the next take. 
Perkins first fell in love with steelpan due to its "beautiful, hallow, haunting sound." While Starr has a similar feeling about the instrument, his concern during the process was that the percussive element might overpower the musical side. But after hearing the group play for the first time, he quickly found that not to be an issue.
"When you have several of them playing together the sound begins to blur and it sounds like an orchestra rather than a mallet hitting a piece of steel," Starr said. "Also, the history of these drums is amazing and how they started out of oil cans. It is a fascinating legacy."
Now that the recording has been completed, with mixing and mastering in the can, Thornton and Starr are looking ahead to 2018 and the many possibilities that they see for Pan Rocks.
"It has always been my vision to bring together the Trinidadian Steelpan, the visuals of Carnival and rock and roll in a traveling circus type show. This recording was the first step towards realizing that vision," Thornton said. "There is so much mystique, sexuality and power in the way the Trinidadians celebrate Carnival, it lends itself perfectly to a spectacular rock and roll show," Starr added.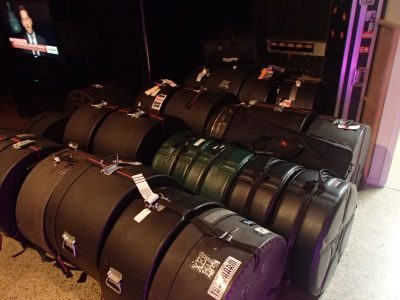 The goal of Pan Rocks is to create a show that would encompass elements of live music and dance combined with 360-degree footage, live streaming content and live VJ effects inside of a giant portable dome. "The idea is to first present it using a hybrid of live performance and 360 Video to start and then build it into the full live show", says Thornton. "We will premier the show in a few select cities including Las Vegas in 2018 before ultimately taking it on the road."
Thanks to a boost from the Jane's Addiction Facebook page, the video for "Been Caught Stealing'" received over 90,000 views and 800-plus shares in one week. Starr sees a bright future due to both the personnel involved and the quality of the work done.
"I think at first the project will be used to promote the project and present it to other business people who might want to get involved," he said. "Ultimately, I can see an entire record of original compositions."
For Thornton, while the end goal is still his mission, even getting this far has been like a dream fully realized. "My father told me he was proud of me for sticking to my guns. He's always sending me pictures of birds in flight. He said I always did my own thing. With this pan thing, you just stick with it," Thornton said. "I've got a buddy that is a self-taught artist who painted guitars for bands like Poison and Bruce Kulick. He said, 'When you come up with an idea that's different and no one understands, there's a ten year rule. Just keep going and they'll get it.' It took ten years from when I wrote Dain Brammage for people to accept it. Then it was the best selling steelband chart in the country. I heard the gossip. You just stick with it. That was a big learning lesson on patience too. The goal is just to have stuff going on while you're waiting for that one big thing. If something happens with Pan Rocks it's going to happen fast and furious and I'm probably going to have to hang on for dear life."
Learn more about Pan Rocks and Tracy Thornton at https://www.panrocks.com.