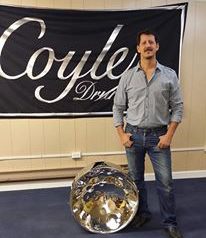 Dreams take many forms. They sometimes take shape and remain the same over the years as a person chases them and makes them a reality. Other times they morph into something different enough to alter a person's course beyond what they ever thought possible. The latter happened for Alan Coyle, owner of Coyle Drums, which manufactures steelpans, steelpan accessories and offers tuning services that take him all over the United States, Canada and Europe.
As a music student pursuing a Master's degree at West Virginia University in the early 1990s, Coyle came across pan by chance. In 1993, legendary pan builder and innovator Ellie Mannette, began teaching steelpan there. Coyle saw potential in the instrument and decided to learn how to build it by apprenticing with Mannette.
"I was finishing my masters at WVU in percussion. I had planned on getting a doctorate but decided I was tired of school and stayed in Morgantown another five-and-a-half years apprenticing with Ellie," Coyle said. "What drew me to pan was Ellie's gregariousness. We didn't have pan at graduate school. That place was known for African drumming and ensembles. I saw where he was at in the industry compared to everybody else and saw an opportunity to help shape an entire industry."
While apprenticing with Mannette for nearly six years, Coyle continued teaching and playing pan until deciding to turnpro and set out on his own to run his own steelpan company, Coyle Drums.
"I started the company in July of 1998. I decidied it was time to branch out on my own and follow my own ideas on where the instruments needed to go. Ever since then it's been a quest to build bigger and better instruments," Coyle said. "The clarity, depth of tone and consistency of sound and responsiveness set our instruments apart from other builders. You're not going to find any pans as clean as ours. There are so many variables."
In an industry that has expanded to include a large number of U.S. pan builders, Coyle found a way to set himself apart from the competition by establishing his niche, which is easier to understand when looking and listen to his instruments. But there is one definable trait Coyle claims to set him apart the most from others.
"I've claimed definitively that you need to control the metal thickness. I started doing that in 2003. At that point, nobody else was doing it. I found out what the machine was called: an ultrasonic thickness gage. I started experimenting and found that most of the flaws in sound were because the thickness of the metal was inconsistent. I started on that."
To create a unique instrument with a signature look and sound, Coyle married the best practices from other pan builders. "We haven't grooved a drum in years because it's completely worthless. I give Phil Solomon credit for that. He may or may not have been the person who invented the concept," Coyle said. "Sometimes we do dimples around the note, like with Tracy Thornton's drum. It's just a way to visually see the notes."
Renowned steelpan builder and innovator, Cliff Alexis, has said that the biggest way for steelpan to evolve as an instrument is for the builders to go to steel mills and standardize the type of metal used on all instruments. Coyle agrees when it comes to metal thickness.
"What's going on is, back in the day, you know how a 2×4 is not really two inches by four inches? It's one-and-a-half by three-and-a-half. The old drums were 1.2 mm thickness. That's what we call 18-gauge metal. During the last 20 to 30 years, the steel industry started making the new steel that's much stronger. They can roll the metal thinner and still meet the requirements for the barrel use," Coyle said. "For our industry, making instruments from this is terrible because the thickness of the metal is critical. They went from 1.2 to 1.1 and now 1.0. These 1.0 mm drums are not holding up. I'm seeing these things deteriorate in about eight or nine years."
The trouble with getting the steel barrel industry to make standardized sizes specifically for steelpan building is that it costs too much money, according to Coyle. One would need to visit a metalurgist and have them create the specs they need in a large quantity. "That would be perfect because you could roll the thickness you wanted and it would make the best instruments. Any metal tops that is 1.25 will get the job done," Coyle added.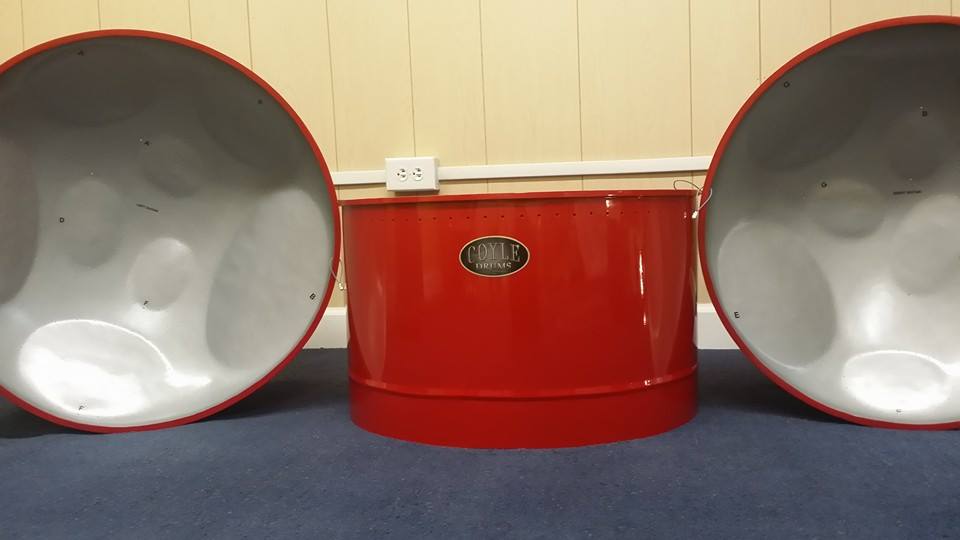 When it comes to tuning, Coyle charges $135 an hour, a rate that was established through lots of experience tuning bands and learning how fast he could work and still get the job done properly. "There are a lot of top-tier tuners who charge $150 to tune your instrument. That's damn near $300 an hour if they work in a half hour," he said. "I tune for the pitch, blend, focus, balance, sustain and velocity requirements of different notes. If you take good care of your instrument it won't take as long."
Due to a high volume of orders, Coyle outsources some work to other pan builders, including Augustus Peters, Christian Best, Ronald Matthews and large-volume Trinidadian manufacturer/distributor, Gil's Pan Shop. "We import about 120  instruments a year from Trinidad. Sometimes it's one-off, sometimes it's schools. We call that our Calypso series. We bring them in and tune them up to their highest potential," Coyle added.
For the instrument and steelpan industry to reach its highest potential on a global level, Coyle believes that more builders are needed, which begins with more educational opportunities. "A school for builders and tuners is a path forward for the instrument. They have one down in Trinidad. The industry is very fortunate that Ellie started doing what he did in 1993. I was his first full-time apprentice. Most of the top-tier tuners came from that workshop in Morgantown," he said. "We're a small industry; a niche within the niche of percussion. Some don't share information. I'll tell people anything they want to know. There's not enough people and not enough a free flow of information. As Ellie always said, 'If you're good, you'll have more work than you can handle. But you gotta be good.'"