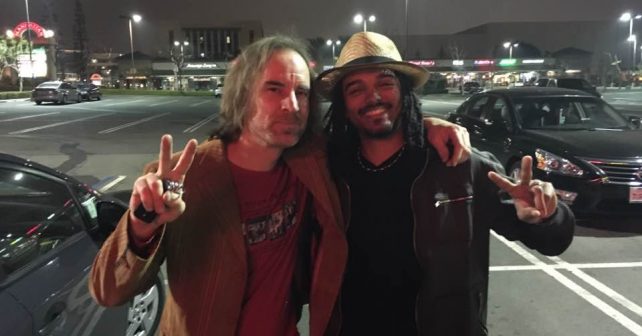 In an effort to promote steelpan locally, PAN Magazine and event promotion group SoCal Soca, joined forces to present the first ever Los Angeles Pan Shootout on Friday, December 9 in Manhattan Beach, Calif. The event took place at the Lido di Manhattan Beach restaurant and featured two crackshot pannists, Chris Wabich and Dany Iry.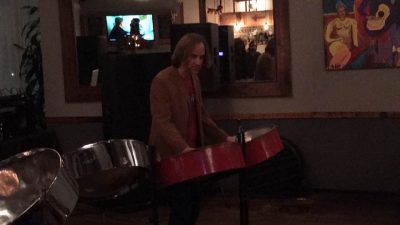 The two players were chosen for their distinctive styles and improvisatory skillsets, with Wabich offering a jazz-fusion style while Iry came from a Reggae background. The format began with each player performing one solo steelpan piece (Wabich played "Steelband Paradise" by Ray Holman, Iry played "Stir It Up," by Bob Marley), then being supported by a band (comprised of Max Minskoff on drums and Ted Goslin on bass) to trade solos in two subsequent songs, "I Shot The Sheriff," by Bob Marley and "Party Time Again," by Baily.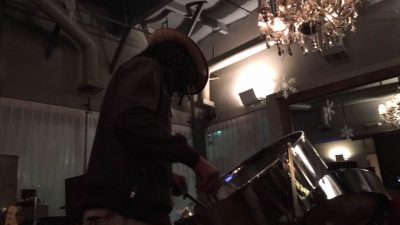 Onlookers were engaged by the back-and-forth engagement that each player got out of the other, with momentum swinging to each throughout the night. "They both played great! It was a treat to see them inspirer each other to new heights. Max did a wonderful job of driving the Engine Room!" said Richard Schwagl, local pannist and attendee at the shootout.
Thanks to a strong reception to the performances, event promoters are already in talks about the next event, which should take place some time in early 2017.
"It was a joy watching these two amazing players battle each other musically. It's a nostalgic reminder of how pan started, with bands warring with one another through physical violence, which eventually gave way to musical competition and led to Panorama," said Ted Goslin, Editor and Publisher of PAN Magazine. "The two players were chosen to represent different ends of the musical spectrum and their different backgrounds. They did not disappoint. We can't wait to plan the next event and find our next set of competitors to show both the pan and extended community at large the true potential of pan."
The event is available for viewing via LiveStream below: